The decision to move from your home country to Canada is tough but harder to do is searching for the best apartment rental sites in Canada. Especially when you are moving to a completely new country.
Doesn't matter if you are moving to Canada as a student, permanent resident, or business entrepreneur, you really need apartment rentals, houses for rent, or flats for rent where you can live after having a hectic schedule.
As a newcomer in Canada, most probably no one will own a house right after landing or in the beginning, so renting a house or apartment is the only option available for new immigrants.
If I talk about some countries like India, shifting is much harder because one has to pack his all furniture like a bed, dining table, sofa, etc. to a different state or city.
However, in Canada, if you are renting a house, basement or anything else for living you will have plenty of options to get a fully furnished place.
This is a matter of relief. Isn't it?  However, if you are moving to Canada under the refugee program then the Canadian government helps you to find temporary accommodation.
Let's move forward to find out the top apartment and house rental websites in Canada.
12 Best House and Apartment Rental Sites in Canada
Here you can find the best house and apartment rental websites in Canada (2023) to hunt for your next beautiful rental home.
Best Overall: Kijiji.ca
Best for House, Apartment & Condo Rentals: Rentfaster.ca
Best and Fastest way to find a rental home nearby: Facebook Marketplace
Let's go dive into the rental websites in Canada's detailed list, find out the best features and how to use each rental website.
#1.

Kijiji.ca – Top rental website in Canada
Kijiji is one of the topmost websites for searching rent houses across Canada available for more than 300 cities in Canada. It is a subsidiary of eBay launched in March 2005.
Kijiji Important Rental Stats
Year Founded: Kijiji.ca was launched in 2005 in Canada.
Number of Listings: Kijiji.ca hosts thousands of rental listings across Canada. The exact number fluctuates regularly as new listings are added and others are removed upon successful rentals.
Rental Types: Kijiji offers a wide variety of rental types, including apartments, houses, condos, basement suites, and shared accommodations. Users can filter listings based on their preferences, such as location, price range, and property type.
When you open Kijiji it will like the below screenshots. Let me explain the various features of the website here.
Kijiji is a general classified website so you can search for anything here. As of now select "House Rental" from the drop-down and select the province in which you want a home.
I selected Alberta for example. On the left-hand side, you must see many options or say filters by which you can filter your search choosing whatever options you want in your apartment rentals.
This website allows you to select Location, Offer type, Featured Ads, Price ranging, Ads with Video or Images, Number of bedrooms and bathrooms, Furnished or not, and whether Pet is allowed or not.
Let us talk about display ads now. You must be seeing various ads displaying your search criteria. For example:
You can view the Heading and Description of the advertisement; Rent amount, Location, and Images of the property with the date of post. By clicking on a particular ad you can further view details descriptions like more images and a guide map of property location. You can also send a message to the owner or who posted an ad to make a deal with them.
---
Zillow Canada web traffic has about 3.3M visitors from Canada, Zillow has a great portfolio of rental listings from all over Canada.
Zillow Canada Important Rental Stats
Year Founded: Zillow, an American real estate company, was founded in 2006.
Number of Listings: Zillow has a wide presence in the United States but is also used by some Canadians. The number of Canadian listings may vary depending on the location/area and rental types.
Rental Types: Zillow offers various rental types, including apartments, houses, condos, and townhomes.

Zillow was first launched in 2006 and was founded in the United States. Zillow is one of the most popular real estate websites in Canada in 2023.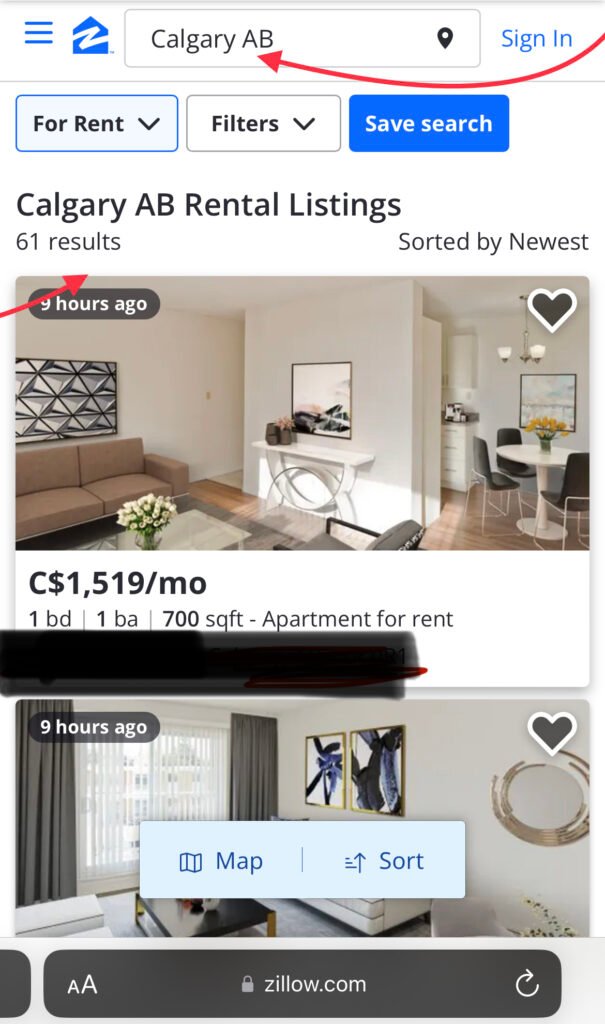 Steps to use Zillow's Rental Search Feature
It's pretty simple to use, just follow simple instructions after landing on the Zillow website.
Enter your location, i.e. Calgary, AB

Select property type: For rent

Select filters > Home type > Houses / Apartment/Condos/Co-ops or Townhomes

Put price Minimum to Maximum

Number of beds, Baths

Your 'Move-in Date
and hit apply.
As you can see, I've searched for Calgary, AB and It shows the most recent result which was posted 9 hours ago, and you can see there are 61 listings available in Calgary during the time of search.
---
#3.

Facebook Marketplace
Facebook Marketplace Rental Stats
Year Founded: Facebook Marketplace was introduced in 2016.
Number of Listings: Facebook Marketplace's listings are user-generated, so the number of rental listings can vary significantly by location/area/city.
Rental Types: Facebook Marketplace hosts listings for apartments, basements, houses, townhomes, shared rentals and other accommodations.
Yes, you have it on your phone, use it in a better way to find the best apartment, condo and house rental listings near your location with cost and recent photos.
Simply type your location, and choose the local radius as shown below.
Now after selecting the rental radius, click on apply.
I.e. I've selected the location, Calgary AB, and selected an 84 km radius which means 'only show me listings within a specific distance'.
Now type 'house for rent or 'apartment for rent'.
Here you can see the results of my 'house for rent' results with all the details.
Price

Beds

Baths

Latest photos

Exact location

Nearby amenities
and much more.
The best part of the Facebook marketplace is the response time from the owner or whoever has listed the property on behalf of the owner. You can get instant responses, more photos and request a viewing right away.
---
The RentBoard.ca website started in July 1998 is owned and operated by a Canadian company Rent Board Canada, Inc.
RentBoard Important Rental Stats
Year Founded: RentBoard.ca was founded in 2003.
Number of Listings: RentBoard.ca provides a substantial number of rental listings across Canada.
Rental Types: RentBoard.ca offers a variety of rental types, including apartments, houses, condos, and shared accommodations.
When you go to the website, you will notice a search bar appearing on the left-hand side of the home page by which you can search various locations with popular cities and recent post advertisements on the right-hand side. Let us search for the Nova Scotia rental board: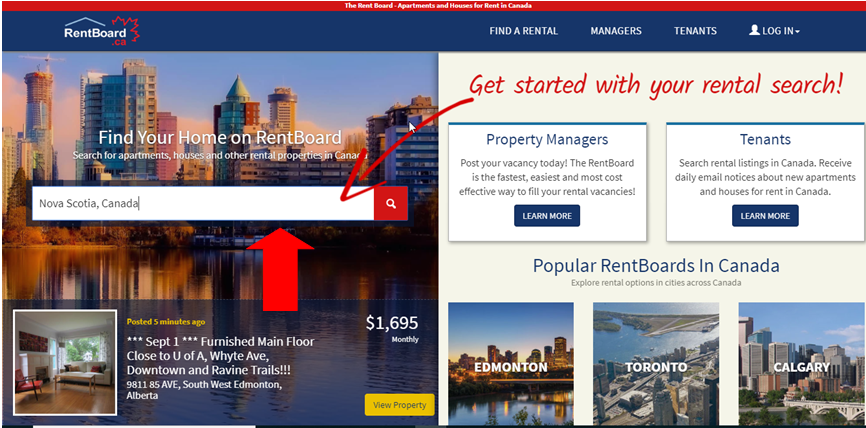 When you press Enter, the page will be redirected to various ad listings. You must be noticing various option buttons. Click on the "Filters" option.

"Filters" will let you select numerous types of options by which you can see the final results of an advertisement on the basis of rent amount, number of bedrooms, and bathroom.
You can opt for any type of rental whether it is a house, apartment, basement suite, duplex, office space, and many more.
Rent board also allows you to select appliances you need in a rented property, interior and exterior facilities, Internet, cable, electricity, heat, and many more options.
By checking all options you need just press the "Search" button and the results are here. Click on the particular ad you seem interested in.
You can view various options by clicking on every button like detail images a map to view how far this property from different locations is, Email this listing to a friend, and can view a printable listing. You can also check that this is a verified property owner as a verified badge is showing by Rent board just below the display image.
By dragging your mouse down you can have a quick look at the details, and features of the property, and can enquire about a rental listing by emailing or by calling.
---
Rentfaster started their business in 2003, Earlier they did deal with Calgary, Edmonton, and Alberta but they extended their site to search for apartment rentals all over Canada in 2016.
RentFaster.ca Important Rental Stats
Year Founded: RentFaster.ca has been serving renters since 2003.
Number of Listings: The platform features numerous rental listings, primarily in Western Canada. The number of listings also depends on the particular location/area you are searching for.
Rental Types: RentFaster.ca includes apartments, houses, townhouses, and condominiums.
By clicking on the above link, you will reach the home page of the website where you can enter details of the location. By scrolling down you can directly click on any city in which you want to see the rental property, list your own property for rent, and see rental market stats to know which city's rentals going up or down since last month. Let us search Calgary for now.
The website will show various types of listings. You can filter your lists by clicking on the "More Filters" button at the top right corner of the map. This will let you select options like Type of Property, Monthly Rent Range, Number of Bedrooms, Bathrooms, Utilities Included, Furnishing, Pets, Smoking, Parking, Home Features, and many more.
When you click on any listing, this will show a description of the property with available utilities, Property features, and Community features under the "PROPERTY INFO" tab.
Anyone can view detailed images and contact the landlord. When you click on the "COMMUNITY" tab it will show you information about a particular area in which that property resides like a description of the nearby community, closet bus routes, train stations, rental stats of the area, closet schools, libraries, distance to local landmarks and map of that area.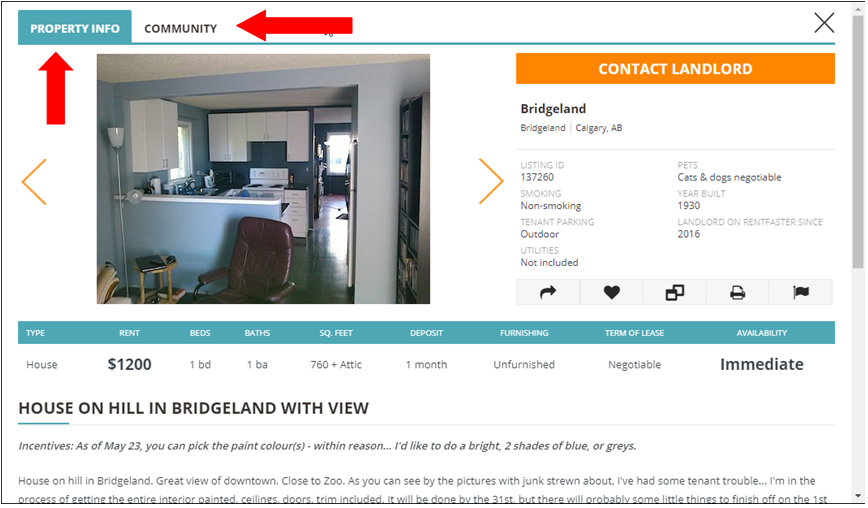 ---
---
4rent headquartered in Toronto is a subsidiary of Media Classified Corporation which was launched in 2010.
4Rent.ca Imporant Rental Stats
Year Founded: 4Rent.ca has been operating as a rental platform since 2010.
Number of Listings: 4Rent.ca hosts numerous rental listings across Canada.
Rental Types: Rental options on 4Rent.ca encompass apartments, houses, condos, and shared spaces.
Let us start hunting for 'Saskatoon rentals' this time. On the home page, the title bar shows basic filter options.  To view more filters click on the "More Options" link just below the top right corner of the title bar. This website provides you list view as well as a map view of available housing options.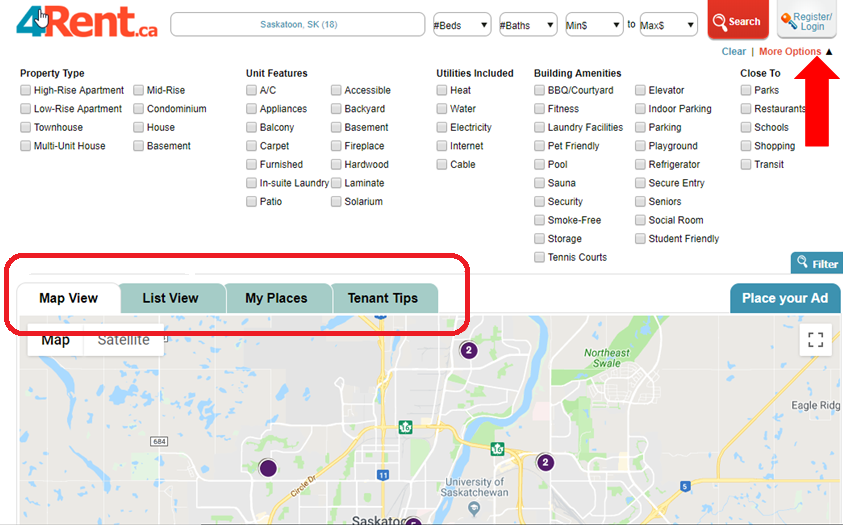 Click on any listing under list view to read the details of housing. The list view shows a brief description of the property rent, type of building, address of the location, icons of amenities available an icon of the community at the right-hand side which is providing this property for rent.
The difference between other renting websites and 4rent is that this website lists only the housing that comes under some communities. It does not list an individual's house which is available for rent.
For example, I clicked on the second listing which is listed by "Boardwalk Rental Communities". It will be redirected to the following page which shows descriptions of a particular community at the left-hand side with featured ads showing in the navigation box and other ads showing below of "Boardwalk Rental Communities" only. Clicking on any ad will lead you to a detailed description with contact details of rentals.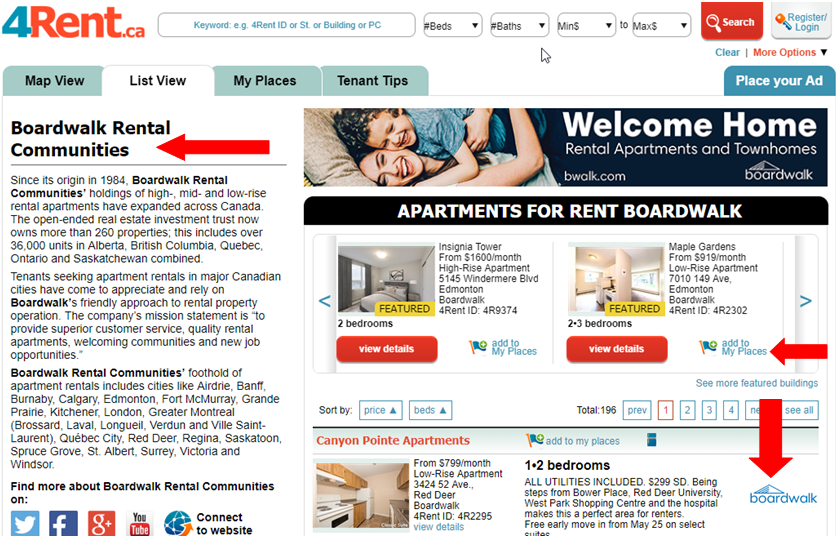 ---
RentSeeker started in 2009 by Chaim Ravlin, is a privately owned real state listing platform. It also provides the services of marketing and Information Technology. RentSeeker claims to be Canada's number-one real estate website.
RentSeeker's Important Rental Stats
Year Founded: RentSeeker.ca was established to help renters find properties in 2009.
Number of Listings: The platform offers a substantial number of listings across Canada.
Rental Types: RentSeeker.ca covers various rental types, from apartments to condos and townhomes.
RentSeeker is adding two more options on their website which will search property according to the requirement of "Senior" people and for commercial. As of now, it is providing services for residents and students.
By dragging down, you will be able to directly select properties based on some type of amenities, city, and Landlord which is featured on the home page. Let us start the search for housing in Toronto this time.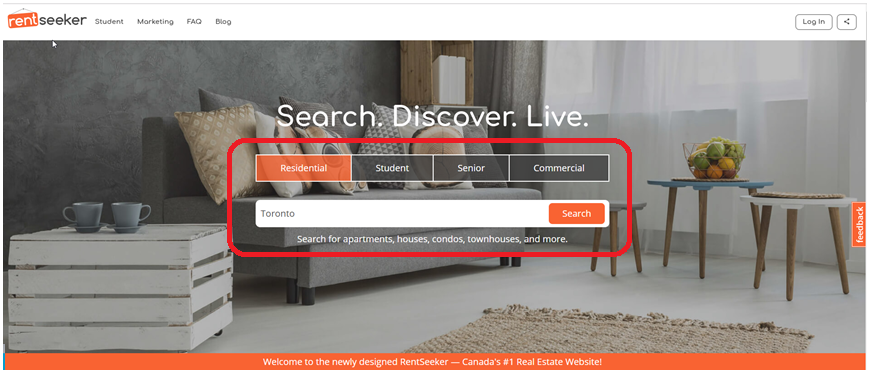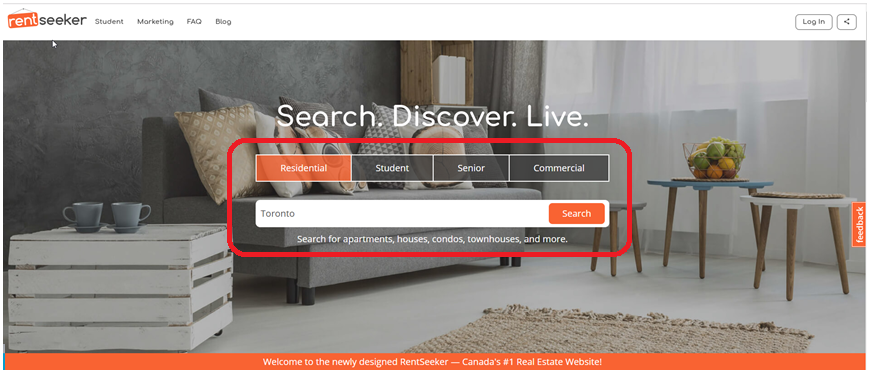 You can see the map view where orange dots show the available properties and locations and the right hand shows the list of various housing. By clicking on any listing, you can view various details of housing and can contact the property manager. One plus feature is here to check the "Walk Score" of region and transit score for rider's paradise.
Back to the home page, when you click on RentSeeker for Students, it will show you some popular universities' names where you can search housing for students only.
---
ApartmentLove, as the name suggests, only provides options for apartments. This website started its business in 2015 and in a very short time period, it counts in the topmost Canadian housing rent listing.
ApartmentLove Important Rental Stats
Year Founded: ApartmentLove.com started providing rental listings to users.
Number of Listings: The platform hosts a range of rental listings, with specific concentrations in various cities.
Rental Types: ApartmentLove.com includes apartments and housing units.
However, this website also provides services for the United States. By dragging down the home page you can directly click on the type of apartment you want whether 1 bedroom, 2 or 3, and many more options are there. Let us talk about Surrey this time.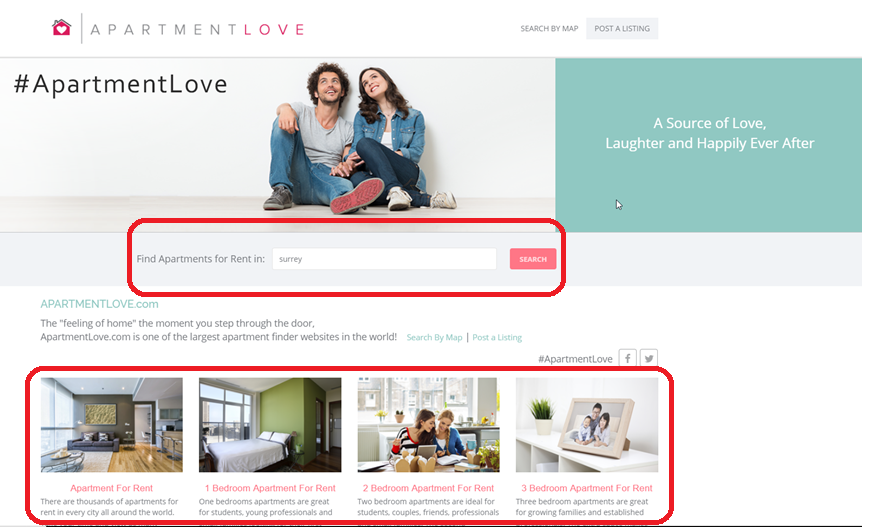 This website allows very basic filters to search apartments. Click on any listing and view the description, contact the owner if needed. Just below all listings, you must notice that ApartmentLove provides a little bit of information about the Cost of living in the particular chosen city, Rental Statistics with renting tips and advice.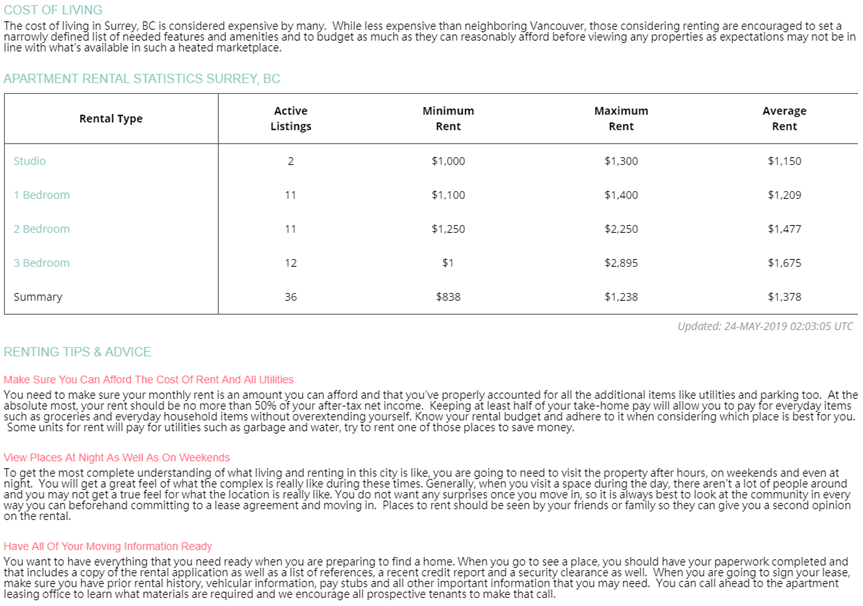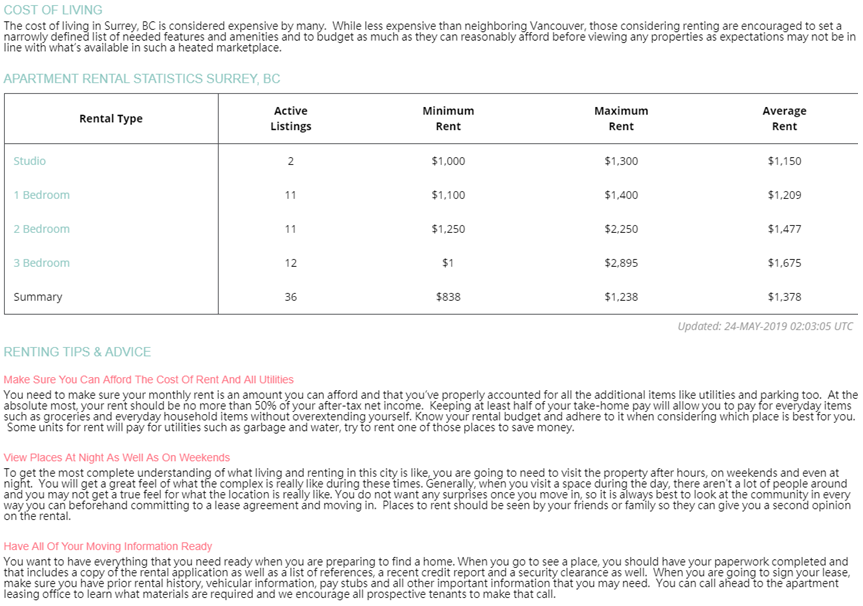 ---
According to their website, Gottarent.com started in 2000 and became a part of the Metroland Media family in 2009, is Canada's most comprehensive database of rental properties with Easy navigation and searching.
Gottarent Rental Stats
Year Founded: Gottarent.com has been helping Canadians find rentals since 2000.
Number of Listings: This rental platform features numerous rental listings based on specific locations.
Rental Types: Gottarent.com offers various rental types, including apartments, houses, and condos.
When you open the website it only gives you the view of the search bar with more filter options which I liked the most about this website rather than giving various things on the home page to make it attractive. Let us start hunting Vancouver as of now.
This website also provides the same options as other websites to view listings with descriptions and you can contact the property owner if the number is provided there. You can also sort listings according to your need for price ranges and bedrooms available.
---
A‌i‌r‌b‌n‌b‌‌ ‌is an American online marketplace and hospitality service company based in San Francisco. Airbnb provides a platform for hosts to accommodate guests with short-term lodging.
Airbnb Rental Stats
Year Founded: Airbnb, a global platform, was founded in 2008.
Number of Listings: Airbnb features short-term rental listings, including entire homes, apartments, and unique accommodations, available in every location in Canada.
It's a great platform for short stays or when you are visiting Canada as a tourist or landing in Canada as a new immigrant. For your initial weeks or months, Airbnb is the best bet.
A person can use the service to arrange or offer to lodge. This is a new kind of service where guests can live with hosts but to be straight this option is good when you want to live there for a shorter period.
Let us jump to their website and search for Manitoba. I am taking the example of a stay for one month to have an idea of the total cost.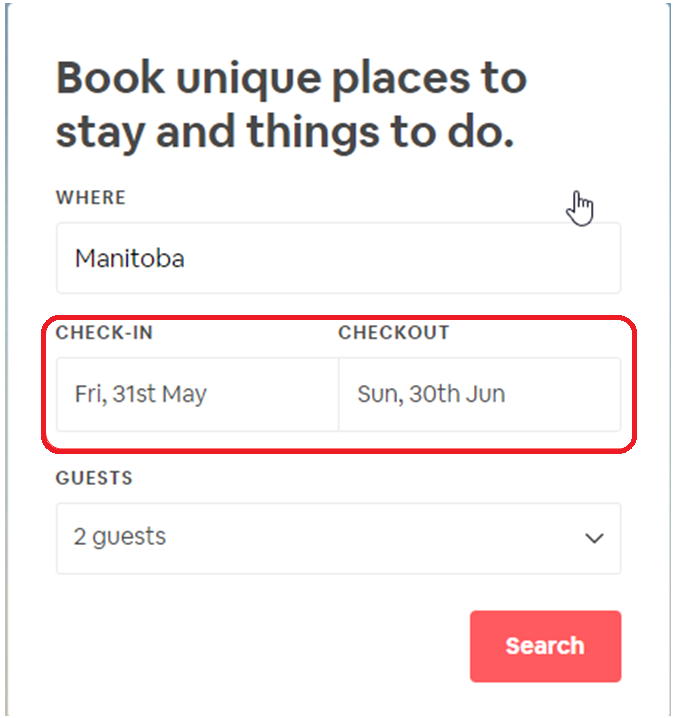 The various options for housing will open. There is an option to click on 3 types of tabs. The "Home" tab will show you only available houses with a location map on the right-hand side.
The "Experiences" tab will allow you to see what kind of activities you can do in the particular selected region and the "Restaurant" tab will allow you to check various available food points nearby.
Clicking on any available homes option will take you to the details page of Airbnb which describes very detailed images, dates of the booking, the number of guests, Amenities available, accommodation pricing, discount if any, service tax, total cost, information of the host, the neighbourhood and the policies of house and cancellations. The "Book" button will take you to the sign-in or sign-up page and further to the payment page.
---
According to their website, Toronto Rentals started in 1995 and has evolved into one of Canada's largest apartment rental sites. However, as the name suggests this website only deals in Toronto.
TorontoRentals Rental Stats
Year Founded: TorontoRentals.com has been helping people find rentals in the Toronto area since 1995.
Number of Listings: The platform provides a significant number of rental listings, primarily in the Toronto region.
Rental Types: TorontoRentals.com includes apartments, houses, condos, and more.
One interesting feature I have noticed while going through the website is browsing housing in 3D & Virtual Reality way which provide a very realistic view of house and streets nearby.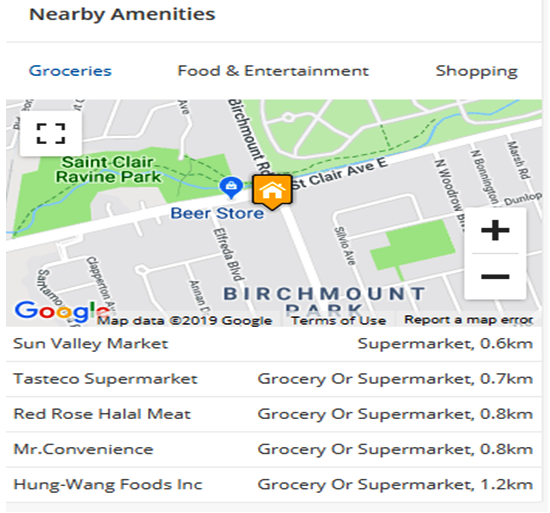 Basic features are like other websites but the following pictures show the highlighted features of the website and nearby amenities within less than one or two KMs.
---
Here we come to my last website. On the home page, you will be able to search lists of housing based on companies that provide renting services and by selecting specific provinces under maps. However, you can directly select popular cities from the home page.
ViewIt Rental Stats
Year Founded: ViewIt.ca has been serving the rental market since 2001.
Number of Listings: The platform offers numerous rental listings in various locations/cities in Canada.
Rental Types: ViewIt.ca covers different rental types, including apartments, houses, and condos.
For example, I searched for Ottawa apartments. If you have not been there before the further page will show you a brief description of Ottawa with basic filters and options to show results in a list or map view. Details are available when you click on a particular listing.
You can directly switch to the next or previous listing by clicking on "Next ViT" and "Prev Vit" respectively. As usual, you can contact the dealer or owner and view this on the map to have an idea of the exact location.
---
In addition to the above, there are a few other websites which also provide housing servicing like:
I hope this will help you to find your next rental house or condo soon.
Rental Websites in Canada: Conclusion
There are many landlords out there who are willing to rent their houses to only newcomers. However, many landlords prefer Canadian documentation.
They usually request information about your ability to pay rent like a letter from your employer that indicates your income or Bank statements that show you have enough savings in your bank to cover rent for a few months.
Note: My serious recommendation is to beware of spam advertisements also displaying on the various websites which demand rent transfer right now. Have a look at the listing, contact the person, take a look at the property, and satisfy yourself with the options available. Only then you should transfer money in hands or by whatever source. Do not transfer money at the first stage because some owners do not have refund policies. So please do your own research. (This is not a sponsored post.)
I hope your queries related to the best apartment rental website recommendations in Canada will end here.
Happy Hunting!