What is CIPS Certificate?
CIPS (full-form) stands for 'Canadian Information Processing Society' which acts as a regulatory body in Canada to provide professional licenses. If you want to become a certified IT professional or want to work related to the IT field in Canada, CIPS Certification is required. For IT professionals, CIPS provides three types of certifications :
AITP – Associate Information Technology Professional
I.S.P. – Information Systems Professional
ITCP – Information Technology Certified Professional
Why do you need a CIPS Certificate for Canada?
Canada is a country of opportunities and dreams. The Canadian government made our way easy to apply for immigration via the express entry program. Applying through the Express Entry program is pretty fast and results can be seen after 6 months if everything goes well.
However, current trends of express entry draw selecting candidates with more than 460 CRS points to make us worried about whether CRS points will come down or not. In addition to this, 67 points-based criteria are also a matter of tension for some groups of people. The solution for both problems is applying to Canada via any Province Nominee Program (PNP) program as I did.
As my CRS points were less than 400 hence PNP was the only option for me and I applied for Saskatchewan Immigrant Nominee Program (SINP). In Saskatchewan, some occupations required licenses to work in it. Without the mentioned license, you will not be eligible to apply under SINP.
Hence, if you are applying for SINP, make sure you see the list of occupation which needs a CIPS  certification for SINP to work in Saskatchewan. You people must be thinking that we will apply for a license after reaching Saskatchewan when you get permanent residency.
Note: Let me correct you here! The Saskatchewan government will hold your file until you provide them a corresponding license.
They will give you one year from the date of correspondence to provide a certificate otherwise they will dismiss your case after one year if not provided. Find here if your occupation is in demand need a license to work in Saskatchewan, Check here: Saskatchewan Regulatory Bodies
As I am from an IT background. My occupation also needed a license so I applied for Certified Membership as an Information Systems Professional (I.S.P) via Canada's Association of I.T Professionals (CIPS). When I searched on the internet for "How to apply for CIPS Certificate" and found nothing specific which describes a step-by-step process to apply for a CIPS certificate. I searched more and more, collect some points from one location, second from another place and many more from different sources. Thought to write a complete guide on this topic and here is the implementation of that thought.
How to Apply for CIPS Certificate?
Here, I will help the people who are struggling with "how to get an I.S.P certificate from CIPS for Saskatchewan".
Let's start with the steps :
Click on the link which leads to the official website of CIPS
Scroll down the page and click on the "CIPS Ethics Exam" link written in red colour.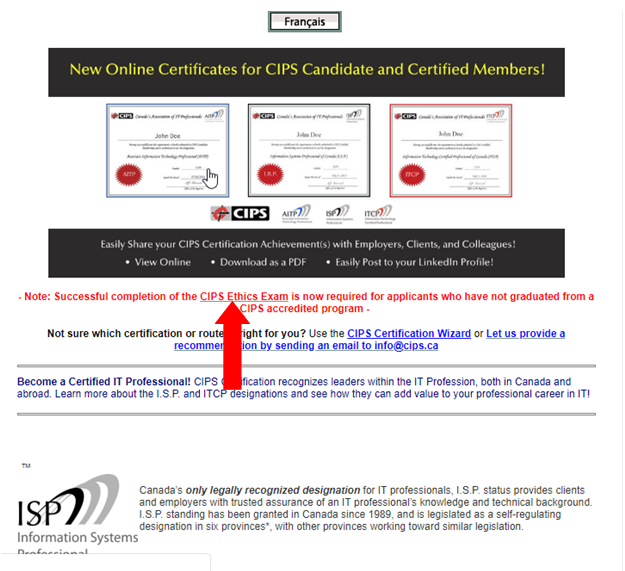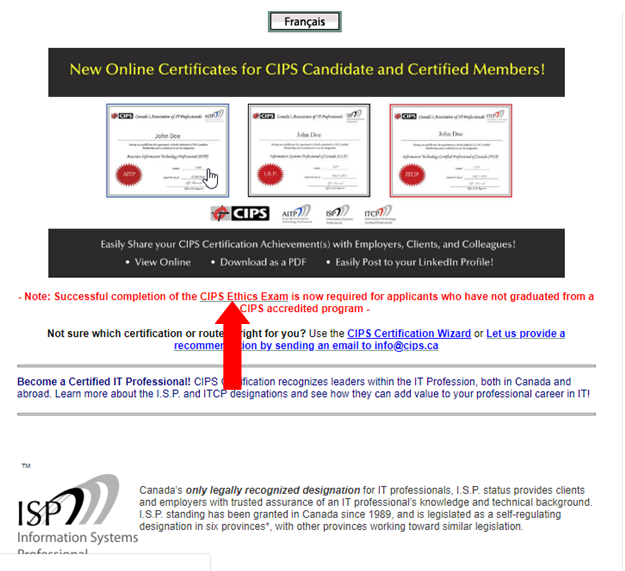 The CIPS Code of Ethics is a comprehensive guide to professional conduct. The Code is designed to help IT practitioners maintain the highest level of ethical conduct, standards of practice and integrity with respect to their professional activities.
Every candidate requires to give this exam before proceeding. There is an online test with a few multiple-choice questions which you need to clear. Before jumping to the online test you need to make an account. When you click on the above link "CIPS Ethics Exam" the welcome page will open like this :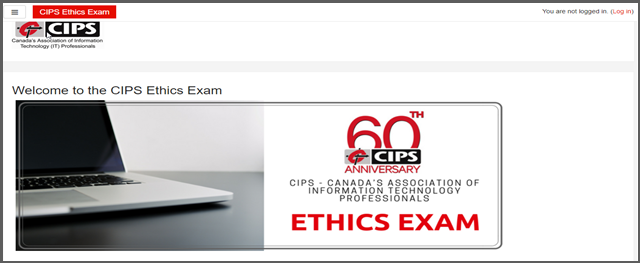 Scroll down the page and after reading the instructions make an account by clicking on the "Create new account" link.
Fill details in the following form and click on "Create my new account".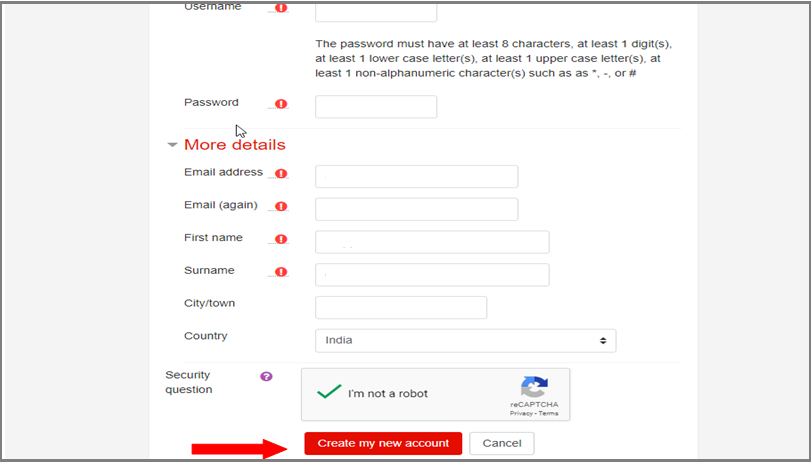 An email will be sent to your mentioned email ID for confirmation. you need to click on that link to continue.

Logged in to your account with the credentials which you have just created. You must be seeing a welcome page of the CIPS ethics exam with your name displayed at the top right corner of the page which means you are now logged in to your account.
Scroll down the page. On the left-hand side, there is a link to the "CIPS Ethics Exam" under "Available courses". Click on it. Slightly scroll down the page and click on the "Enroll me" button. The next page will appear as follows:
Important Note: Please read the instruction before taking an exam. After reading it you can also take a practice test if you want to know what type of questions will be given in the ethics exam. Passing marks are 75% to get generated an ethics exam certificate.
There will be a total of 12 questions with 4 different cases each containing 3 questions. You need to answer 9 questions right to get the certificate and you will have only one attempt and 30 minutes to complete the test.
Click on the "Ethics in compute-ring and IT Exam-Version A" link and then click on the "Attempt quiz now" button on the next page.
Answer the question carefully because you have only one attempt at it.
After you have answered all questions, the system will generate your number of marks in percentage and you can also view which questions were wrong and right.
If your passing percentage is 75% then the website will generate your certificate of completion automatically otherwise it will not. Your certificate will look like as below and this is my real certificate which is generated while completing of ethics exam.
Now, What to do next? Have you applied for your education evaluation course by course? I had my ECA report from world education services (WES) but it was documented by document evaluation not course-by-course so I applied for the course-by-course report from WES.
If you already have a document-by-document evaluation in the last 5 years then you can just simply upgrade your report to the course by course by paying a fee to WES. There is no need to send all the documents again. All you have to do is, just login into your WES account, click on the upgrade report, pay the required fees and mention the address where you want to ship it.
Here you have to give two addresses, one is of yours and another is of CIPS. Take the address from the CIPS website and mention it under the WES account properly. For your reference, the CIPS National office address is as below. Please reconfirm from their website before mentioning it anywhere.
However, you do not need to wait for the hard copy of the WES report particularly for the CIPS certificate because you can just mention the reference number generated under your WES account to CIPS in your Email when you will be submitting every detail.
WES evaluation report may take a maximum of one month. When you receive a hard copy of the report just scan it and save it for lateral use. Remember you will receive an evaluation report on the WES account before you receive a hard copy at your home but that online copy is not for official use. This is only for your reference.
Wherever you need to submit a course-by-course evaluation, deposit a scanned one which you have done from a hard copy, not from an online one.
The next step is to choose your route. Choosing a route is a very much important step. Please read the instruction carefully before proceeding. For choosing a route, please follow this link: CIPS Certification and Candidate Applications and Requirements (AITP, I.S.P., ITCP)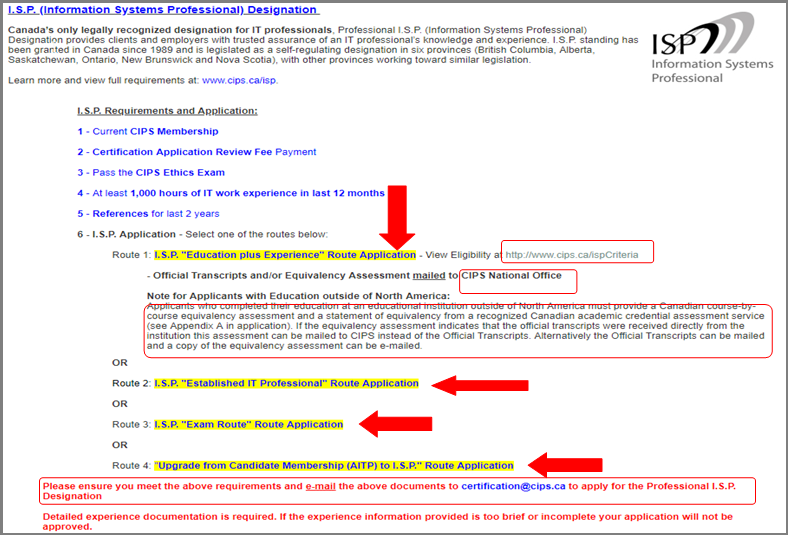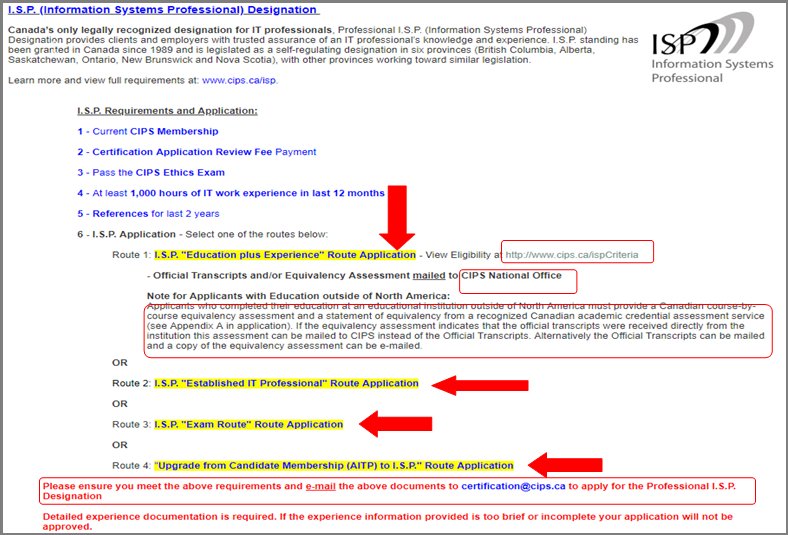 You can directly download the application form corresponding to the particular route which you are following. For example, I followed route one which is Education plus Experience route.
Click on the yellow link displayed to download the application form.
MUST watch my detailed video guide on CIPS Certification :
CIPS Certification Cost | How to Make the Payment?
When you open the downloaded form, you must be seeing the payment option there. Yes, you have to make payment first before submitting your application to certification@cips.ca. No matter whether your application will be approved or not but you have to pay this review fee which is non-refundable. For payment follow this link: cips.ca/CertificationPayment.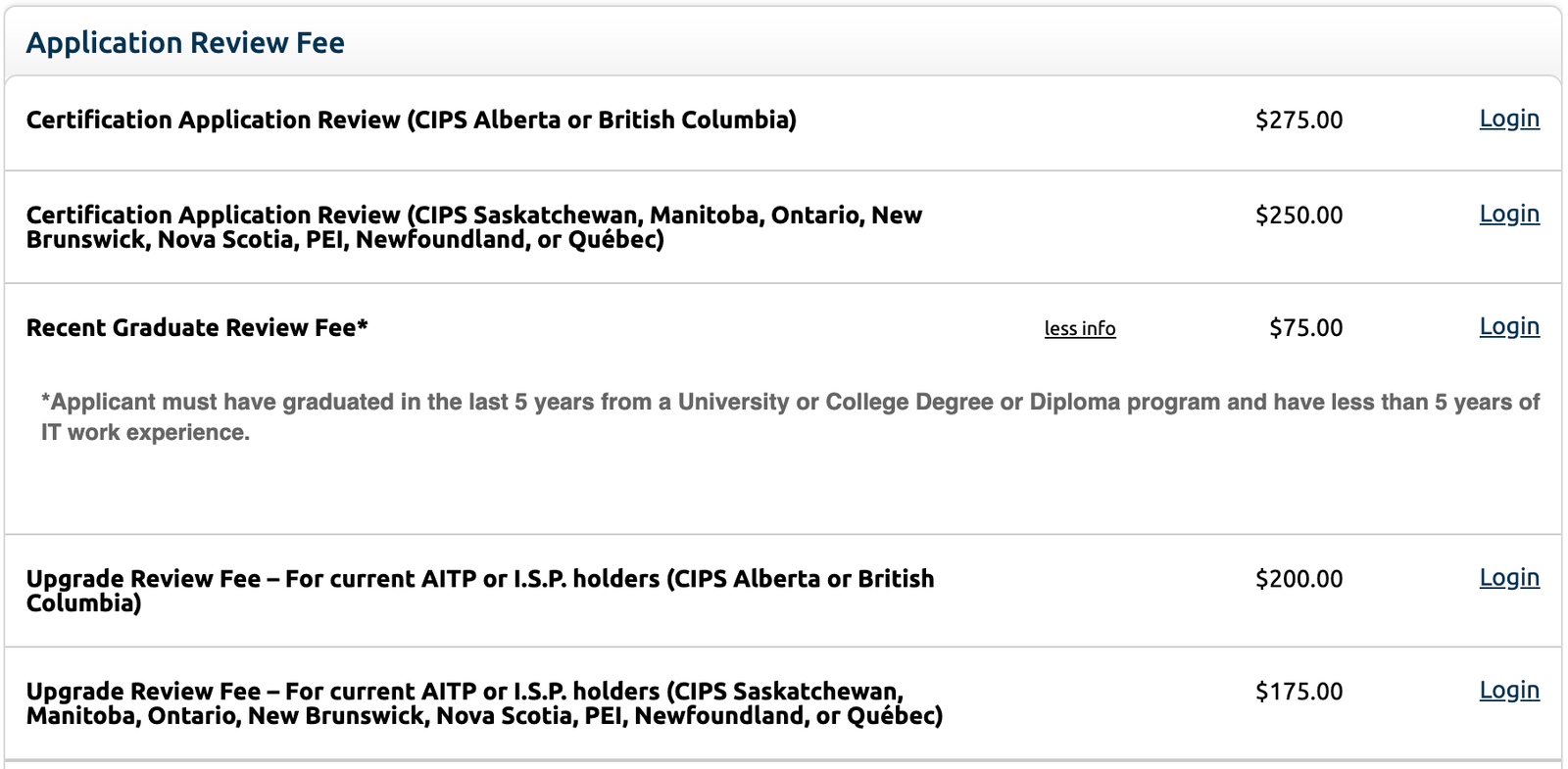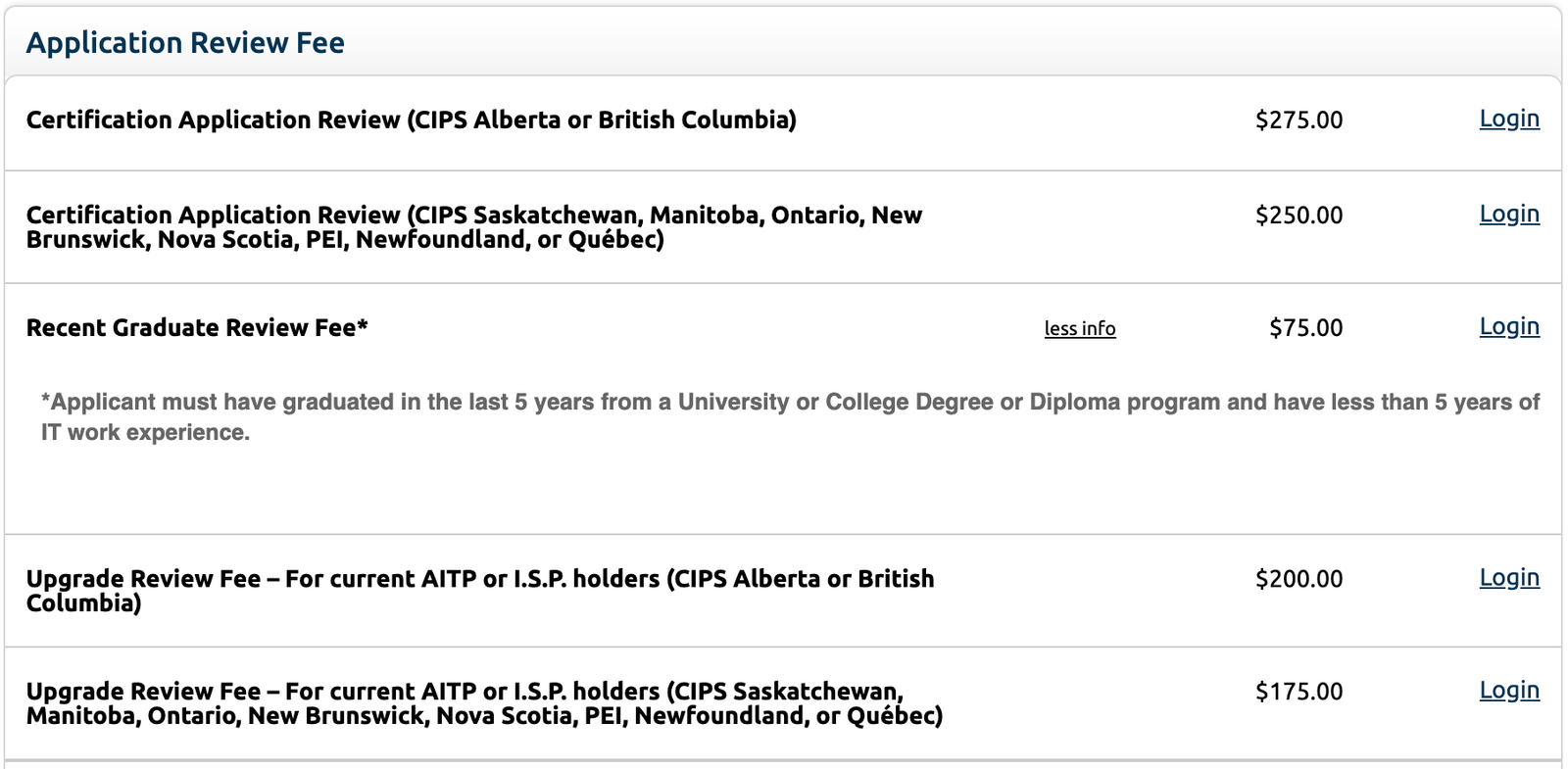 Make the payment according to your certificate. I choose the second option because I need that certificate for Saskatchewan and paid $250 review fees plus $225 which is a yearly membership fee from CIPS. For anyone who is applying CIPS certificate, it is necessary to pay the membership fee first, only then you can apply for a certificate of CIPS for a particular province.
After paying the fee, you can open the application form in Microsoft word and start filling in word only and take a print afterwards typing all the information. Please be very careful while entering information, especially in regard to work history. You need to mention a very detailed description of your company, job duties, responsibilities, percentage of work level and BOK code.
---
|Read Also: First Landing Experience at a Canadian Airport as Permanent Resident
---
The Final Step
Here comes the final step, after having an ethics certificate of completion, WES (or any other education evaluation report) course by course evaluation report and application form printed with your details in hand, scan all these documents except WES (because they will get it via WES) plus your work experience letters including your offer letter(s), relieving letter(s) if any, experience certificate(s) and Email these all documents to certification@cips.ca with the explanation of your case like your name, education and work experience.
In addition to this if you have not received your WES evaluation report yet then mention your reference number in your Email. Write in the email that you have attached every document needed by you if they still need anything from your side then let you know.
After sending an email you will receive an email back after some hours that we have received your application and it will take about 6 months for processing but to be honest my application took about 8 months. You should definitely have patience while applying CIPS certificate. You can check the status of your application or get your tracking number by visiting this link:  cips.ca/CertificationStatus.
---
|Read Also: How to Create an Express Entry Profile for Canada? Step-by-Step Guide
---
Once you have achieved the ISP certificate, it will be valid for 3 years and you need to re-certify yourself after 3 years.
So, your final CIPS certificate will look like this :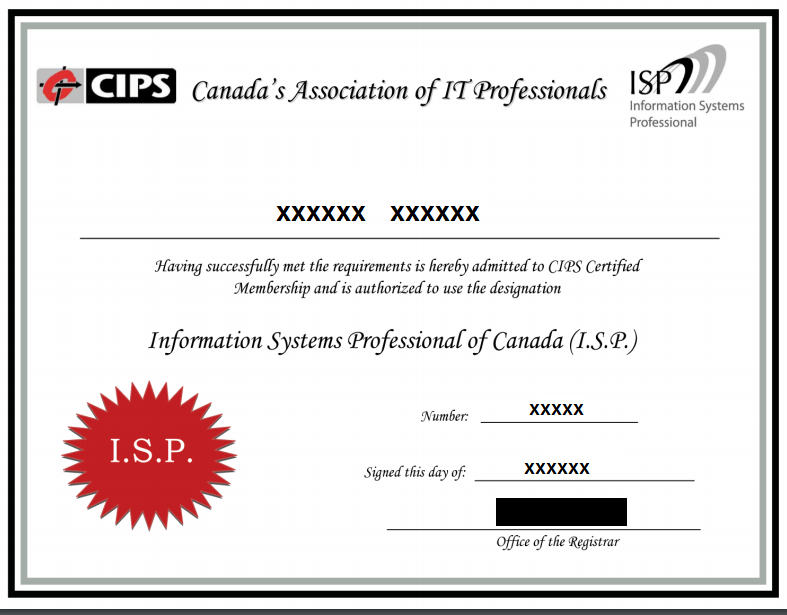 I hope I have cleared every aspect of "How to get a CIPS Certificate?" in this complete guide post. However, if you still need help on this topic, please comment below. I will try my best as per my knowledge to help you out.
Note: I am not a professional blogger. Please excuse small typos or mistakes. I tried my best to cover up all the possible information.
Please if you find it helpful, kindly share it with your friends who are looking for detailed information. I wish everyone who is reading this post to achieve your "Mapple Dreams-Canadian Dreams" soon :). Subscribe to my blog for the latest posts on various other topics related to before and after landing in Canada.
All the Best!