Saskatoon is the largest city in Saskatchewan, it's also known as the hub city because it's the main business hub. Many people are making Saskatoon their new home and moving to this most vibrant city of the prairies. If you are one of those who are looking for the pros and cons of living in Saskatoon and planning to move here, your search ends here.
I've been living in Saskatoon for a while now, I can tell you everything about this amazing city. You must be curious to know if is Saskatoon a good place to live as a new immigrant. You will get the answer to all your queries.
But, before we start with the ups and downs of living in Saskatoon, let's know some facts about this beautiful city first.
Here are some of the highlights of Saskatoon
Saskatoon is the largest city in the province of Saskatchewan, with a total area of 228.1 km²
Saskatoon is famous for its bridges, Saskatoon is known as Paris of the Prairies and toon town.
Saskatoon has 8 bridges (as of January 2023) connecting each corner of the city.
Saskatchewan's biggest university, 'The University of Saskatchewan' is located in Saskatoon.
'Nutrien' is the world's largest potash producer, and its headquarter is located in Saskatoon.
Without further delay, let's begin.
10 Pros of Living in Saskatoon, Saskatchewan
Let's start with the pros of living in Saskatoon and why should you move to Saskatoon.
I hope this article will clear your doubts and would help you make your decision.
#1. Saskatoon is the biggest city in the province
There are many reasons why I enjoy living in Saskatoon. One reason is the city's size. It's big enough that there is always something to do but small enough that it doesn't feel overwhelming.
Another reason is the people. The people here are friendly and welcoming, and it's easy to make friends.
#2. Low cost of living in Saskatoon
The cost of living in Saskatoon is also very affordable, which is a huge bonus. And, last but not least, the nature here is absolutely breathtaking. There are so many beautiful parks and trails such as the meewasin trail to explore, and Saskatoon offers some of the best sunsets you will ever see.
The cost of living in Saskatoon is relatively affordable when compared to other major cities in Canada like Toronto or Vancouver.
According to the Financial Post, Saskatoon is the 11th cheapest city in Canada.
Numbeo's Cost of Living Index, Saskatoon ranks as the 5th most affordable city in Canada as of October 2022, with a score of 62.02.
#3. Affordable Housing in Saskatoon
Despite being a rapidly growing city, Saskatoon still ranks at the top for being affordable in terms of housing and the real estate market.
This is a big thumbs up for new immigrants, you can easily afford a house once you settle down.
The average house price in Saskatoon as of August 2022 is approx. CAD $383,000 ($383k).
Single detached homes in Saskatoon are in the price range of CAD $375,000- CAD $450,000 as per crea.ca.
#4. Less Crowded and Less Traffic
Saskatoon is a mid-sized city, with an estimated population of about 3,37,000+ and is fairly less crowded.
Less population means, less traffic, and less traffic means less commute time.
You can literally go from one corner of Saskatoon to the other corner of the city within 10 minutes to a maximum of 15 minutes.
Kudos to the City of Saskatoon for making great roads throughout the city.
There is a 'major road' called circle drive, that revolves around the city or you can call it a ring road, you can take a circle drive and reach any part of the city within minutes.
#5. Saskatoon's Fast-Growing Economy
Saskatoon is the largest city in the Canadian province of Saskatchewan. The City of Saskatoon has an estimated population of 337,000+, making it the seventh-largest census metropolitan area in the country.
The economy of Saskatoon is diverse, with significant contributions from agriculture, mining, potash production, and tourism. The city also serves as a regional centre for trade and commerce.
Saskatoon is the hub city of Saskatchewan and runs the major economy of Saskatchewan. The world's largest potash producer 'Nutrien' has its headquarters located in Saskatoon.
There is a lot happening in Saskatoon lately, It's a balanced city with a booming tech sector.
#6. Saskatoon is for Nature lovers
Saskatoon lies in the centre of the 'Land of the living skies. You will see beautiful wide, big skies all around the city.
You will absolutely fall in love with Saskatoon's natural beauty.
If you love living close to nature, you can call Saskatoon your new home. There are many beautiful parks, landscapes, a beautiful South Saskatchewan river, lakes, a zoo, and much more.
Saskatoon has 6 beautiful lakes within a 100 km range.
#7. Education: University of Saskatchewan
Saskatoon is the home of Saskatchewan's biggest university, 'The University of Saskatchewan'.
Saskatoon has the largest school division in Saskatchewan with approx 2400 employed staff members.
So finding a school near your location won't be an issue at all. Doesn't matter which part of the city you will reside in, you will have a school near your location.
There is no 'fee' for residents from Kindergarten up until high school.
| | |
| --- | --- |
| [Types of Schools in Saskatoon] | [Numbers of Schools] |
| Elementary Schools | 51 |
| Secondary/High Schools | 12 |
| Alliance School | 1 |
| Associate | 1 |
*See all schools list here: Saskatoon Public Schools
The Saskatchewan government provides a rebate of up to CAD $20,000 to undergraduates living in the province under the graduate retention program (GRP).
#8. Low Car Insurance
This is one of the great pros, Saskatoon offers really low car insurance if you compare it with the rest of the country.
This is another recurring monthly bill that you will add to your living expenses once you own a car.
The average car insurance in Saskatoon is about $125-$130 monthly, which is really cheap if you compare it with any big city.
A big thanks to SGI (Saskatchewan Government Insurance) for providing affordable car insurance.
#9. Low Sales and Tax Rates
Saskatchewan ranks #5 in the low sales and rax rates provinces category. This is also a big plus point that Saskatoon has low sales and tax rates.
Saskatoon is one of the cheapest cities to live in Canada.
| | | | | |
| --- | --- | --- | --- | --- |
| Saskatchewan | GST + PST | 6% | 5% | Total: 11% |
#10. Health Care & Hospitals
Last but not least, Saskatoon has a great healthcare system. This is the biggest positive point of the city of Saskatoon.
Health care is free throughout Canada, so being a new immigrant it's important to know how far are the hospitals, and how accessible they are.
Saskatoon has 3 big hospitals to cover each corner of the city:
Royal University Hospital
St Paul's Hospital
Saskatoon city Hospital
They are super accessible from each part of the city. As there is less commute time, so you can reach
Cons of Living in Saskatoon, Saskatchewan
These are the possible cons for some new immigrants if you are planning to move to Saskatoon, and if you don't like cold or have any kind of anxiety issues from cold weather.
#1. Weather in Saskatoon
The weather in Saskatoon is one of the things that make it such a great place to live. The summers are warm and the winters are cold, some months are really cold.
How much cold, you will find the answer here, Why Saskatoon is so cold?
[Saskatoon Weather: by Seasons]
[Avg. Temperature °C]
Weather during Fall
Night: -3°C to 10°C

Sunny Days: 18°C to 22°C

Windy/Cloudy Day: 10°C to 15°C

Weather during Winters
Night: -10°C to -25°C

Sunny Days: -5°C to -15°C

Snowy/Cloudy Days: -15°C to -25°C

Extrem Cold Days: -30°C to -40°C

Weather during Summers
Night: 15°C to 25°C

Day (June): 20°C to 30°C

(July-Aug avg. days): 25 to 30°C

(real hot days): 30°C to 37°C 

*It's an estimated weather chart by season in Saskatoon for a general overview of the weather in numbers.
But you can definitely feel all four seasons here.
One thing to note about the weather in Saskatoon is that it's one of the sunniest cities in Canada.
Saskatoon can be quite windy at times. This is because Saskatoon is located in the middle of the Prairies. But don't let the wind deter you from living in this beautiful city!
#2. Entertainment
Saskatoon offers great recreational activities and 1000s of beautiful attractions. But if you are coming from big cities like Toronto, Montreal, Mumbai, etc. you will feel less hustle and bustle.
Even Saskatoon has 5 good-sized malls for shopping located in every area of the city. If you are a hardcore party lover Saskatoon offers great pubs and clubs, but not as many as you find in big cities like Toronto, and Calgary.
It's a mid-sized city, so you can't compare it with big cities, I still wanted to mention this point for some people who are looking for similar vibes to big cities.
---
How are the Employment Opportunities in Saskatoon?
Saskatoon's employment market can't be compared with big cities.
Saskatoon has employment available for every NOC code, if your NOC Code is in demand in SINP PNP that means there are employment opportunities available.
According to a recently released report on November 30, 2022, by Statistics Canada.
Saskatoon tops with 63.0% the highest employment rates across CMSs (census metropolitan areas).
Check the report here:
This could vary from person to person and profession to profession. There could be some professions that you won't able to find that many opportunities frequently.
It's a compact mid-sized, one of the fastest-growing cities. There is a lot of real estate infrastructure building up here, new areas are being developed,
So if you will look at the stats of big cities with Saskatoon employment and compare them, you may find less employment opportunities.
Although It has a booming employment sector, you may find a little fewer in terms of big warehouse jobs here as compared to Calgary or Edmonton, or Ontario's big cities.
This can't be explained in short, you can find more details in Saskatoon vs Regina guide mentioned below.
is Saskatoon a Safe Place to live?
The simple answer is, Yes. Of course, Saskatoon is a safe place to live. There is a lot of hype regarding the crime rate in Saskatoon. But the reality is different, There are always some areas of any city in the world, where you can hear some incidents happen. You just have to follow any standard guidelines that you probably follow in your own home country/city. Like, don't trust strangers, meet anyone whom you are meeting for the first time, at a public place. Avoid going out late at night when you are new in the city until you learn more about your surrounding areas and the city.
To be honest, we have never experienced anything and haven't heard from many new immigrants whom we know personally. But yes, as per safety concerns, you must know everything about the city.
There could be some areas where some incidents happen If you compare overall with other cities.
If you search crime rate in Saskatoon, Numbeo comes up first, so thought of including the details based on Numbeo's stats.
let's check the overall stats from Numbeo.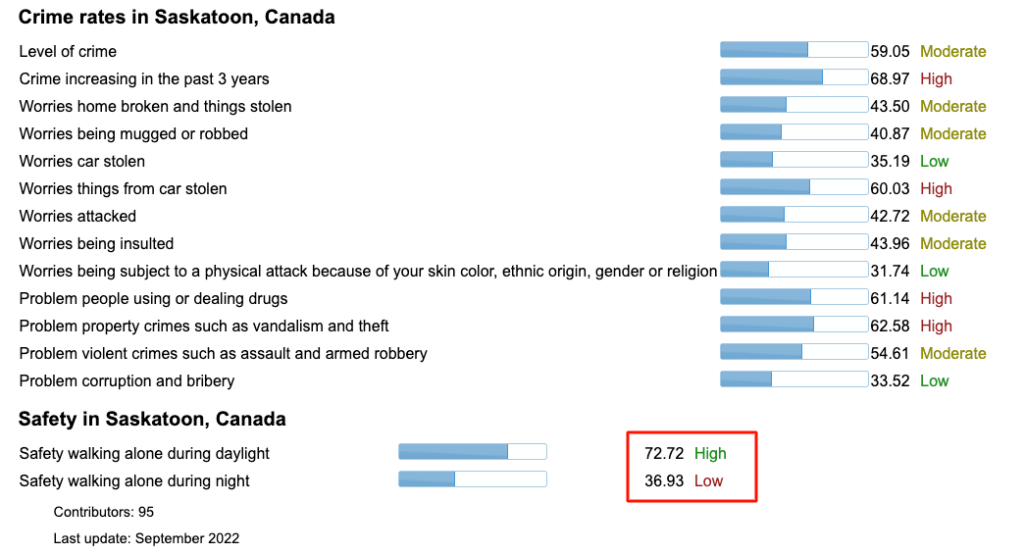 I feel completely safe, day and night, and yes, you must avoid some areas, especially walking alone at late night. Of course, you must follow any general guidelines for every city, when you are new.
Is Saskatoon a good place to live?
Yes, definitely Saskatoon is a great place to live and raise your kids as a new immigrant. The schools are amazing, there are a lot of winter and summer activities to do for kids. Overall people in Saskatoon are super friendly. Saskatoon is a good compact city to enjoy and cherish your precious moments of life with your family. You get 3 big hospitals on every corner of the city, a lot of big groceries stores around the city, good sized shopping mall and a less crowded downtown.
How do I feel about living in Saskatoon?
I absolutely love living in Saskatoon! It's a great city with plenty to do, endless activities and there are so many friendly people.
The winters can be long and cold but there are always fun events happening to keep things interesting in this Saskatchewan's most vibrant city.
I'm also a big fan of the arts and culture scene here. Saskatoon is rich in heritage and culture. There's always something new to check out and the restaurants are amazing.
There is a lot to do in Saskatoon as a tourist or as a new immigrant.
Conclusion: Pros & Cons Living in Saskatoon
This was the general overview of the pros & cons of living in Saskatoon as a new immigrant, as a PR or student.
Overall, I'm very happy with my decision to move to Saskatoon and hope these pros and cons of living in Saskatoon will give you a better idea and help you make the best decision of your life!