Toronto and Vancouver both are the best, biggest and most vibrant cities in Canada. Both of the cities are major tourist attractions as well. A lot of new immigrants have big dreams of living and raising their families either in Toronto or Vancouver.
So I am sure as a new commer you also have the same major question in your mind, Toronto vs Vancouver Where should you move as a new immigrant?
What would be the ideal city Toronto vs. Vancouver for you and your family?
Toronto beats Vancouver with more jobs, higher salaries, and fast growth. Choose Toronto If you love the hustle and bustle which keeps you going, more and the best high-paying job options. Otherwise, if you want hustle and bustle, are a bit slow-paced, love scenic beauty, and can afford a high life then Vancouver is the best bet for a mix of work and fun.
Of-course choices always depend on personal preferences, but there are certain major things that I will be discussing in the article. I have dug deep and tried my best to give you clear insights So that you can make up your mind and I hope this could help you to choose your new final destination.
We are going to discuss all the major concerns like Toronto vs Vancouver cost of living, job opportunities, average salary comparison between Toronto vs Vancouver, population, weather, transportation, housing cost, attractions, restaurants, crime rate everything you would consider before moving.
I believe you will get the answer to this question 'Toronto vs Vancouver which city is better for immigrants?' by the end of this article.
Toronto vs Vancouver: Major difference
Canada is home to a diverse population with over 200 languages spoken across the country. The current population of Canada is 39,56 million (till January 01, 2023). Standing to be equivalent to 0.48% of the total world population. Where people always remain in a fix to choose between two of the highly populous and much talked about cities Toronto and Vancouver.
Each city has its own charm with pros and cons attached. Both the cities possess amazing sightseeing to die for, food variety that can make you salivate, shopping places, electrifying nightlife, jobs that can offer you growth or deep pockets, etc.
However, before we get into the nitty-gritty, let's first have a bird's eye view of Canada as a country.
In the best countries overall ranking, Canada ranks #1 (per usnews). So, among the world statistics, it ranks the following as a country:
| | |
| --- | --- |
| |Statistics | |Ranking |
| Social Purpose | 1st Rank |
| Quality of Life | 1st Rank |
| Agility | 3rd Rank |
| Open for Business | 3rd Rank |
| Entrepreneurship | 6th Rank |
| Power | 12th Rank |
| Cultural Influence | 14th Rank |
| Adventure | 19th Rank |
Now, to declutter your thoughts and perception about the two discussed popular cities, we will deep dive today through this article. It will present the best information in one place along with the key highlights about each city including all its specific details.
Hold on, are you waiting already? Great! Without any further ado, let's explore together!
Toronto:
Area: 630.2 km²
Population: 6.2 million (approx)
GDP: US$45,771
Province: Ontario
Toronto: Fast-paced, Financial centre, High paying and more Job opportunities & Huge population.
Toronto is the Capital of Ontario
Toronto has approximately 6 million people.
It has a busy and fast-paced life. Where its residents are considered hard-working, career-oriented and business-minded.
Owing to its size, it is a hub of job opportunities.
It is also regarded as the financial and cultural centre of the country.
The nightlife, shopping and eating options are generally better than in Vancouver.
This city somehow gives New York City's vibe.
Has cheaper and better-connecting flights.
It is a place for city lovers.
Vancouver:
Area: 115 km²
Population: 2.8 Million (approx)
GDP: US$44,337
Province: British Columbia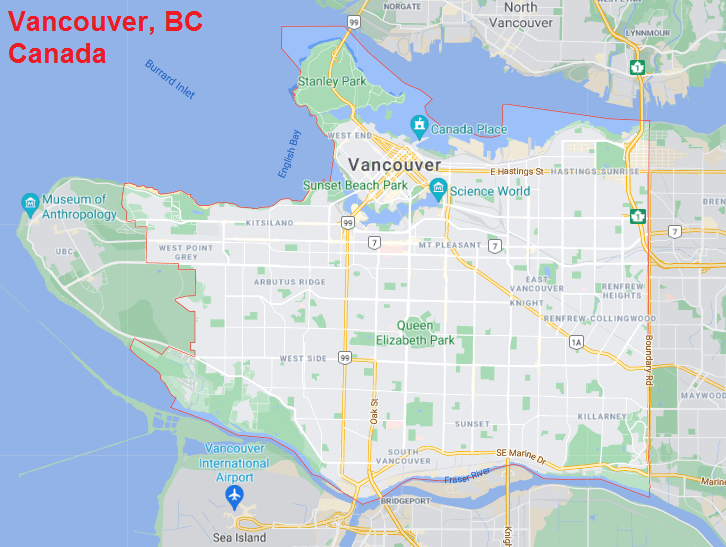 Vancouver: Slow-paced, Lush green, Beautiful sightseeing locations, A mix of work & fun.
Vancouver has a relatively lesser population than Toronto with about 2.8 million people.
Doubtlessly, Vancouver is a bustling location as well however, it lacks in giving the same city vibes as Toronto.
It is greener than Toronto and has fascinating sightseeing places with one of the most beautiful mountains, oceans, etc that one cannot truly miss.
It is a relatively laid-back city but focused on health.
If you wish to enjoy the mix of work and playing outdoors viz. hiking, biking, running, skiing, paddling, diving, etc then definitely Vancouver is the place to be at. Also, the best part is that the distances are short and approachable.
There are various activities that one can explore like great restaurants, fun festivals, stand-up comedy and art galleries, etc. However, it is located at distant locations and is found outside the city streets.
In terms of total area (size), you can see Toronto is a bigger city than Vancouver.
Both cities have no dearth of tourist attractions, food joints, museums, art galleries, shopping malls, entertainment, job opportunities, etc. As per the cost of living Vancouver is pretty high compared to Toronto. However, according to the current statistics for the Year 2021, the housing prices in both cities are skyrocketing.
Talking about Toronto City possesses wider cultural diversity representing cultures from across the world.
On the other hand, Vancouver City is known for its picturesque beauty which is coupled with mountains, islands and oceans, etc. Also, the weather is relatively more pleasant than in Toronto.
Toronto vs. Vancouver Population 2022-2023
Here you can see Toronto tops the list of fastest population growth in Canada by a 0.93% growth rate.
Vancouver follows at #3 in terms of the fastest population growth with a 0.98% growth rate.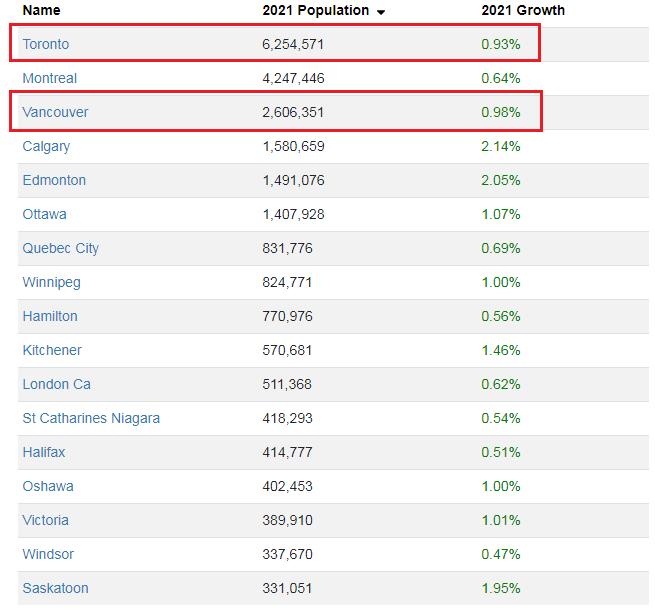 Toronto Population:
According to the macro trends population in Toronto, the GTA area is estimated at 6.3 million.
Here you can see the expected population growth from 2021 to 2035.
The population grew by 0.93% from 2020.
Vancouver Population:
According to the daily hive Population in Vancouver is estimated 2.8 million in 2021 and you can see the expected population growth from 2021 to 2050 would be around 3.8 million.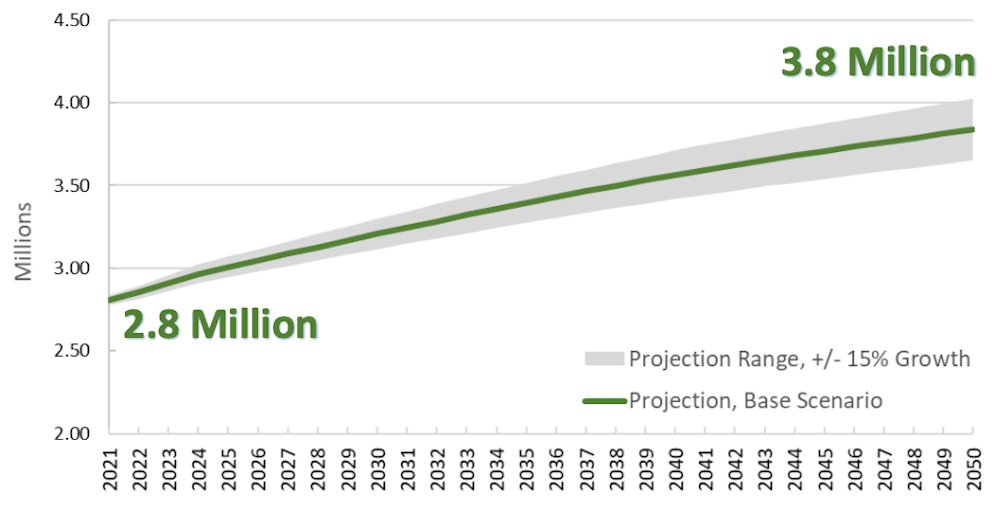 Weather in Toronto vs. Vancouver
The weather of these two cities is in total contrast, with a difference of approximately 3300 kilometres between them.
Let's know more!
Toronto
This city experiences extreme weather, wherein the winters get quite cold as well as snowy, where the temperature ranges approximately from -5°C to -20°C.
In Winters
To show you a real example, let's jump into AccuWeather's temperature graph of weather in Toronto in January 2021.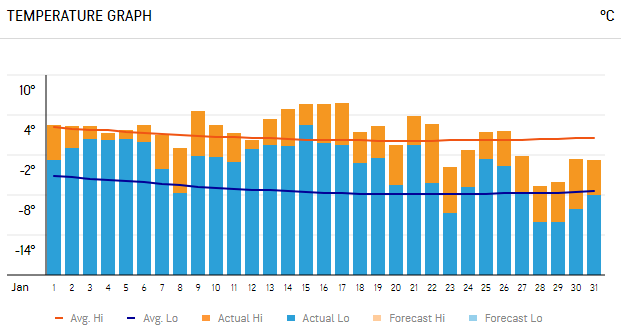 Not just this yet it has sharp wind tunnels that are created by the large buildings that turn it even more bitter.
Snowstorm sounds enthralling, right? Toronto experiences that as well!
By April, the snow starts to vanish.
In Summers
On the other hand, during the summer it turns hot like anything!
Here you can see the Toronto weather graph for June 2021.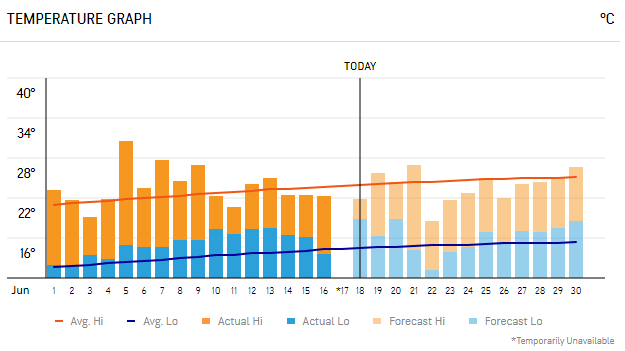 With an average temperature of approximately 25°C coupled with humidity. It increases to sometimes even around 33°C to 35°C on some very hot days.
Vancouver
Vancouver is relatively balanced on the other hand. It's a rare sight to witness snow, however, it has numerous rain showers all through.
Here is the temperature graph of weather in Vancouver in January 2021, On an average between 2°C to 8°C, you will rarely experience temp. goes below 0°.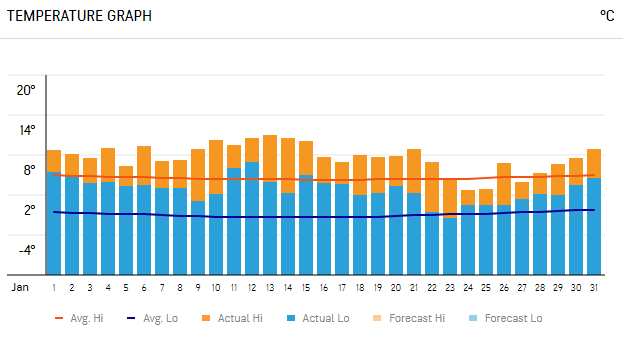 The city residents with all their love often called it "Raincouver", where the city experiences approximately 165 days of rainfall over the entire year span.
So, seeing the sun often is not what this city offers.
However, having said that in April and May, you can see it shining bright without disappointing its residents any bit.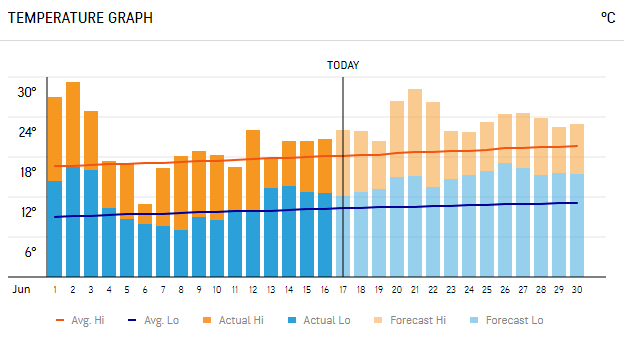 The weather remains warm though but not very hot. Where the temperature remains approximately around 22°C and the weather is drier than in Toronto.
Cost of Living in Toronto vs. Vancouver
If we talk about the Living cost of Toronto or Vancouver, both of these cities are expensive places to reside considering factors like average wage, housing costs and daily expenses, etc.
However, when it comes to rent, utilities and groceries Toronto is relatively economical in comparison to Vancouver.
Also, talking in terms of salary part, Vancouver tops in expenses and doesn't compensate it with the salary making it a low-paying city.
Also, there is a high demand for affordable rental properties in this city, which means if you wish to zero down to one option then the deposit should already be in place while going for an apartment visit.
However, if you miss it by any chance the next potential renter will earn that opportunity.
Cost of Living in Toronto (2023):
Toronto, Ontario has the 4th highest hourly wage rate as of April 1, 2023, which is $15.50 per hour.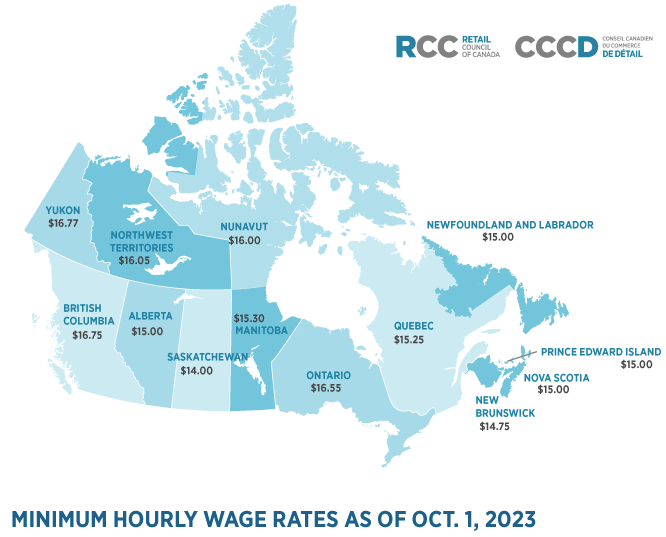 Cost of living for a single person: estimated $1,000-$1,150 (CAD) without rent.
Cost of living in Toronto for a Family (4 Members): Somewhere between $4,000-$4,500 (CAD) without rent.
Average Rent cost in Toronto (approx. without utilities):
1-bedroom: $1500- $1,900
2-bedroom: $2200-$2,300
3-bedroom: $2,450+
Owing to the rich culture and diversity of Toronto, it is of course not a cheap affair to reside in this city.
However, it is relatively lower than Vancouver. However, post-COVID-19 doldrum, things have changed and residential accommodation prices are surging too.
Average Income in Toronto (2023)
For your reference, let me calculate the minimum income based on the minimum hourly wage which is (CAD) $16.55/hr.
(Ontario recently got a minimum hourly wage rate increased from $15.50/hr to $16.55/hr in Oct 2023)
| | | | |
| --- | --- | --- | --- |
| [Earner] | [Min. Hourly Rate Ontario 2023] | [Weekly Hours] | [Earning] |
| Single | $16.55/hr | 40 | $662/Weekly |
| Couple | $16.55/hr | 80 | $1324/Weekly |
So take this example, suppose you are a couple, earning minimum hourly wage only, this is what you would earn for 40 hours x $16.55/hr= $662 per week, and that would be $662 x 4 = $2,648 per month (each).
The total comes out is $2,648 x 2 = $5,296/per month.
Don't worry, you will easily going to get a survival job at more than a minimum wage.  Which could vary anywhere between $18/hr – $20/hr as a complete beginner without any experience.
As soon as you gain some experience or get a better job opportunity in your field, you will definitely be going to earn better starting anywhere from $20/hr – $40/hr or more.
Note: In case you are having a child or going to plan in the future, you can add childcare benefits as well, which are going to vary somewhere between $400-$600 per month per child. (Which could more or less depend on your family income, number of kids, and age of your kids etc).
Cost of Living in Vancouver (2023):
Vancouver, British Columbia has the 2nd highest hourly wage rate as of October 1, 2023, which is $16.75 per hour.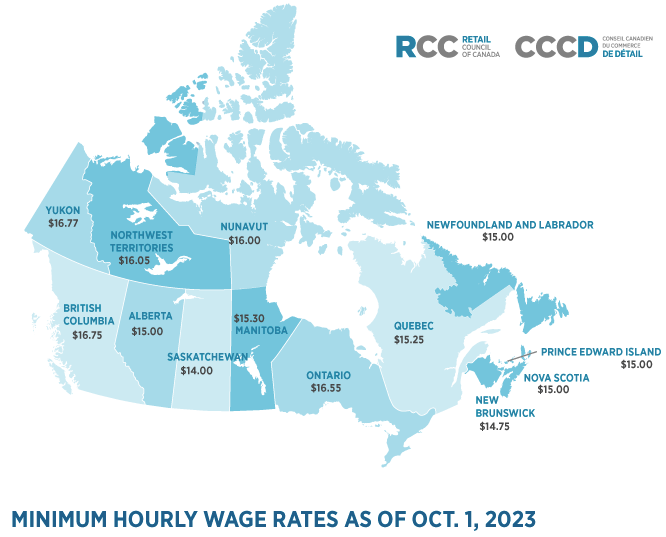 Cost of living for a single person: estimated $1,300-$1,500 without rent.
Cost of living in Vancouver for a Family (4 Members): Somewhere between $4,200-$4,600 (CAD) without rent.
Average Rent cost in Vancouver (approx. without utilities):
1-bedroom: $1,600- $2,000
2-bedroom: $2300-$2,500
3-bedroom: $2,600+
This city is also multicultural however Toronto stays far ahead in comparison. However, it stands to be one of the most expensive cities in Canada. Where the average cost of living is approximately 10% higher than in Toronto.
Average Income in Vancouver (2023)
For your reference, let me calculate the minimum income in Vancouver based on minimum hourly wages which are $16.75 CAD/hr.
| | | | |
| --- | --- | --- | --- |
| [Earner] | [Min. Hourly Rate B.C. 2023] | [Weekly Hours] | [Earning] |
| Single | $16.75/hr | 40 | $670/Weekly |
| Couple | $16.75/hr | 80 | $1340/Weekly |
So let's take the same example, suppose you are a couple and you both are earning minimum hourly wages only.
Here is what you would earn for 40 hours x $16.75/hr = $670 per week, and that would be $670 x 4 = $2680 per month (each).
The total comes out is $2680 x 2 = $5360/per month.
Again, this was just an example of how you may be going to get a survival job for more than a minimum wage.  Which could vary anywhere between $17/hr – $20/hr or more as a complete beginner with no experience.
Same as in any other city, once you gain some experience or find a better job in your field, You are going to earn far better starting anywhere from $21/hr – $40/hr or even more.
Note: Don't forget to add childcare benefits as well, which I have already mentioned above.
Jobs Opportunities Toronto vs. Vancouver
Canada now has undeniably turned out to be one of the favourite destinations for immigrants, especially Indians (owing to the presence of so many Indians to have made this country their second home). People attain benefits from Canadian immigration policies, which is one of the key drivers to make them pick and choose Canada as their preferred immigration destination.
Not just this but people are also highly attracted by the factors viz. high standard of living, medical benefits, safety and security, picturesque geographical locations, and massive employment opportunities.
However, things have taken a sharp turn post the pandemic situation, where the companies/businesses have shifted their gears for the better. Where we all know that working from home has become part of this pattern.
Hence, businesses have adapted to the usage of online collaborations and video-calling platforms. Also, the other businesses that require physical presence have implemented stringent health and safety policies in line with government rules and regulations. This means sanitizing hands often, wearing face masks and maintaining a physical distance.
From the employee's perspective, people have lost their jobs in this situation significantly. This has led certain sectors to become fairly dormant owing to the restrictions and lockdowns. Nonetheless, the country will be in a better position to project this in the second half of the year.
Besides all this, it is time to seek opportunities with companies that are on their way to rehiring employees and paving a new way in this pandemic storm. Toronto is a better hirer in terms of number owing to its orientation as a city and size. However, the below-mentioned jobs are in demand in both these countries seeking the current scenario in perspective.
The in-demand jobs throughout 2021-2022
Customer Service Representative
Driver
Registered nurse
General labourer
Electrical engineer
Software Developer
Accountant
HR manager
Financial Advisor
Tech Sector
IT Industry (Has good opportunities in both these cities)
Canada offers the most competitive salaries in the IT sector, which attracts professionals to choose either of these cities.
The average salary in Toronto is $128,000
The average salary in Vancouver is $127,500
Which is pretty much the same in each city.
Skill Sets (Professions) in Demand Toronto Vs Vancouver
Java, Apache Spark, Artificial intelligence, Augmented reality, Blockchain, Cloud and SaaS skills, Hadoop, Ruby on Rails, Virtual reality, Machine learning, Microsoft SQL Server, PHP, Python, ReactJS and React Native, Swift, Virtualization (Microsoft Hyper-V and VMware), etc.
Toronto-Specific Job Opportunities:
Technology
Financial Services
Fashion/Apparel
Life Sciences
Design
Music & Film
Aerospace
Food/Beverage
Tourism &
Events
Vancouver-Specific Job Opportunities:
Technology
Financial Services
Manufacturing
Retail trade
Construction
Educational Services
Information, culture & recreation
Film
Tourism
Agriculture & Fishing
Average Salary Comparison Vancouver vs. Toronto
*Average salaries you would expect in both of the cities. We pick the 10 most common professions from each city.
Here is an annual average salary comparison breakdown by Teleport.org, (in USD):
[Average Salary: By Profession]

[In Toronto]
[In Vancouver]
Physician
$89,000
$125,000
Lawyer
$72,000
$54,500
Teacher
$40,400
$37,800
Sales Manager
$59,500
$53,300
Accountant
$44,600
$43,000
Architect
$47,700
$50,900
Fashion Designer
$39,300
$30,200
Chef
$31,900
$42,900
Software Engineer
$57,000
$57,000
Hardware Engineer
$62,500
$50,500

*Last Updated: May 2022
*Amount is in USD | Source: Teleport Toronto & Teleport Vancouver
Summary of Average Salary Comparison.
Take Away:
All said and done, Toronto definitely offers more jobs, higher salaries, massive growth, and more fun in comparison to Vancouver.
Toronto vs Vancouver Real Estate & Housing Market
Toronto or Vancouver, there is no doubt both cities are highly expensive as compared to other cities like Ottawa, Kitchener, Saskatoon, Winnipeg etc.
In Toronto for a detached house, you will have to spend a whopping amount of around $920k to $1 million (CAD) on average and $1 million (CAD) to $1.3 million (CAD) in Vancouver, whereas you will get a similar house for literally half a price in the cities like Saskatoon or Regina, Winnipeg, Calgary or Edmonton etc.
(2021 Real Estate Comparison)
Let's dig deep and take a look at Remax's data table of the 2021 Housing market outlook below.
Note: Without any doubt, Vancouver is the most expensive city in Canada in 2021. So yes, in terms of the most expensive cities between Vancouver vs Toronto, without any doubt Vancouver tops the list.
Toronto Housing Market
For a better understanding and real current facts, let's jump to this Re/Max's Toronto housing market Outlook 2021 report,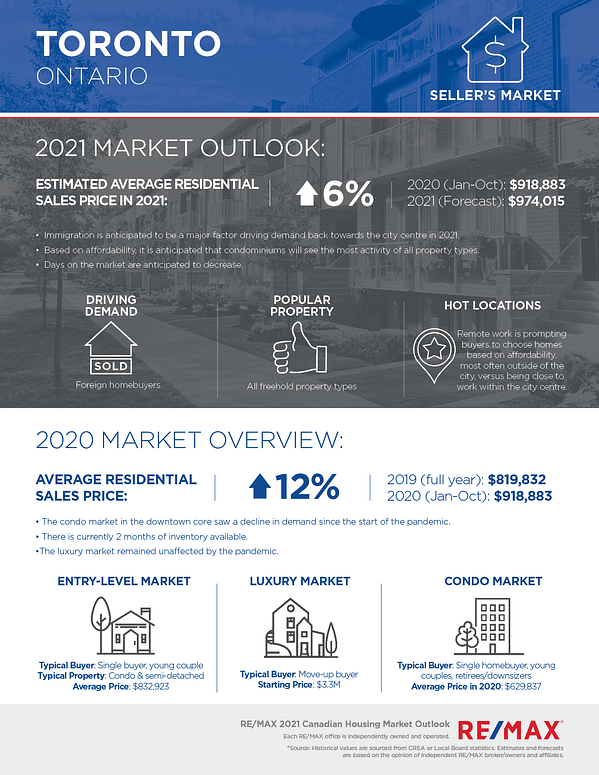 "According to Remax, In 2020 Toronto real estate market saw an average price rise to $918,883 between (Jan. 1, 2020-Oct. 31, 2020) compared to $819,832 in 2019 (Jan. 1-Dec. 31).

Thus, the RE/MAX 2021 market outlook for Toronto real estate is a 6% increase in average price to approximately $974,015 across all property types."s
Vancouver Housing Market
Same as above, let's jump to Re/Max's analysis data for a better understanding of the Vancouver housing/real estate market Outlook 2021 report,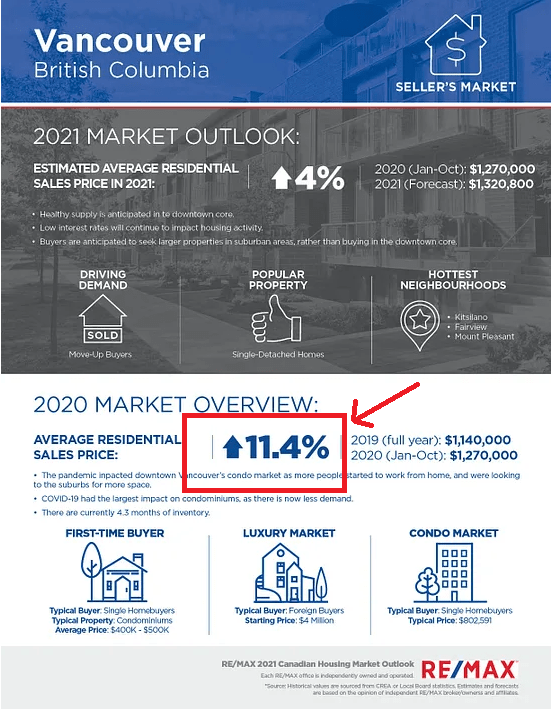 "According to Remax, On average sales price in Vancouver increased by 11.4% to C$1.27 million in 2020 (Jan. 1 – Oct. 31), compared to C$1.14 million in 2019 (Jan. 1 – Dec. 31).

So, The RE/MAX Outlook for Vancouver real estate in 2021 is an increase of 4% in average price to approximately C$1.32 million."
Toronto vs. Vancouver Major Attractions
Of course, both are the most beautiful cities in Canada and there are tons of amazing interesting attractions.
Here I am going to provide you with brief details regarding some of the major attractions in Toronto and Vancouver.
Hope you will find these interesting.
Attractions in Toronto:
View from the CN Tower
Royal Ontario Museum (ROM)
Ripley's Aquarium of Canada
Art Gallery of Ontario (AGO)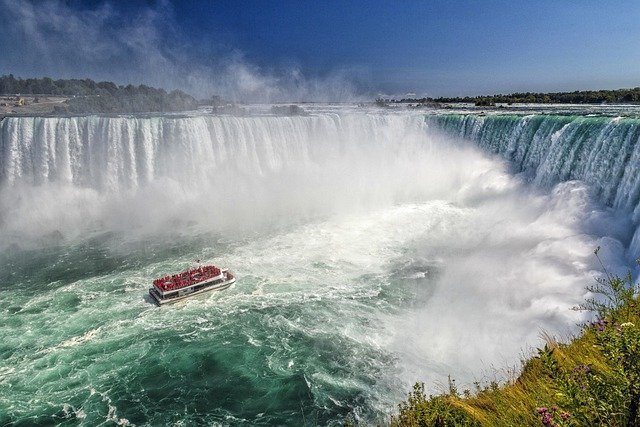 Day Trip to Niagara Falls
Catch a Show or Dine in the Entertainment District
 Toronto Zoo
Tour Casa Loma
City Hall & Nathan Phillips Square
Shop at Eaton Center
Watch the Action at Yonge Dundas Square
Meet the Stars at the Toronto International Film Festival (TIFF)
Aga Khan Museum
Enjoy Nature at High Park
Take a Trip to Toronto Islands
Ontario Science Centre
Hockey Hall of Fame
Graffiti Alley
Rogers Centre and the list never ends.
Attractions in Vancouver:
Here's the list of top attractions in Vancouver:
Stanley Park: Opened in 1888, Stanley Park is Vancouver's first, largest Park.
FlyOver Canada Amusement Park
Vancouver Aquarium
Science World Museum
Museum of Anthropology
Queen Elizabeth Park
Grouse Mountain
BC Place Stadium
 Vancouver Art Gallery
Kitsilano Beach
Lighthouse Park
Capilano Suspension Bridge (Forest, Bridge & Park)
Museum of Vancouver
English Bay Beach
Vancouver Lookout (Architectural Landmark)
VanDusen Botanical Garden and the list goes on.
Toronto vs Vancouver: Shopping Malls and Complexes
Both cities are packed with tons of fun shopping malls and shopping complexes, they are built with modern architecture each of them has its own charm and amazing vibe.
Major Shopping Complexes in Toronto:
Stroll through Kensington Market
Wander through St. Lawrence Market
Dine and Shop in the Distillery District
Yorkville Village
Bloor Yorkville
Path (Underground shopping)
Yorkdale Shopping Centre
Sherway Gardens
Toronto Eaton Centre
Queen Street West
Major Shopping Complexes in Vancouver:
Aberdeen Centre
Granville Island
Robson Street
Tsawwassen Mills
Metropolis at Metrotown Centre
South Granville
Mcarthurglen Designer Outlet Vancouver Airport
Pacific Centre
Gastown
Park Royal Shopping Centre
Commercial Drive
Toronto vs Vancouver Nightlife
Both cities know for their lighting nightlife culture.
You will never run out of the night-out places at both places, they are super fun and attractive.
In Toronto:
This city is incredible when it comes to its nightlife, where there are various choices available for enjoyment. This includes clubs, bars, pubs, and everything in between.
However, considering the size of the city with innumerable choices in place, it is difficult to source a place on a weekend. One can select a choice of their place based on their mood and vibe.
In Vancouver:
When the sun goes down, the residents flock to different places that can make them experience joy with discounted meal deals. It is a usual sight to witness people hopping in the wee hours till dawn. Indeed, there are a lot more varieties and it's simply vast.
In this city, one can catch up with their friends or loved ones over a cocktail bar or dance away the night at a prominent club with some lip-smacking food on the side.
Also, if one is seeking entertainment then one can visit a concert, theatre, stand-up performance, etc.
Toronto vs Vancouver Top famous things
Providing a short detail about some of the top famous things of both the cities.
What is Toronto famous for?
Toronto, having a strong city vibe, is famous for its towering buildings, bustling streets, and waterfront skyline, snow, ethnic and cultural diversity, also it is world-famous for professional sports teams, and reputed universities, etc.
Toronto is famous for many things:
CN Towner is the main attraction and iconic symbol of Toronto.
Toronto Maple Leafs, Toronto Raptors, Toronto FC, and Toronto Blue Jays are world-renowned sports teams.
Niagara Falls, even though it's not exactly located in Toronto, Niagara Falls makes Toronto famous as it's on a short drive and is one of the most famous falls in the world.
Toronto is the Financial and Business hub of Canada, which drives Canada's major economy.
Toronto Festivals and events make it a great vibrant and most festivals hosting city. From the Caribana Festival to Pride Toronto (which is one of the world's largest pride festivals in the world), Toronto International Film Festival
and the list is endless.
What is Vancouver famous for?
This city is blessed with nature's bounty for its lush green lands and its beauty, live-ability, Salmon & Local Seafood, Outdoor Recreation, Hollywood North, Canucks & Professional Sports, Athleisure and Activism, and Rain.
Vancouver is famous for its natural beauty, and many other things:
The Hollywood North is also the nickname of Vancouver because of its vast TV and film industry.
Stanley Park plays a huge role in making Vancouver a famous destination for tourists.
The beautiful climate makes it a fun place to live, Vancouver experiences warm summers, and mild winters yes you heard it correctly MILD winters, which means you can do endless outdoor activities throughout the year.
There are tons of nature activities attractions, from hiking, kayaking, biking, snowboarding, skiing and many others.
Whistler makes Vancouver a hub ski world, Whistler Ski Resort is a world-renowned and famous destination for ski lovers. An important fact to know about this amazing city is that Whistler hosted the 2010 Winter Olympics.
Gastown is a famous and historic location located a short distance from Vancouver.
and this list never ends.
Toronto vs Vancouver: Which one proves to give an edge?
Toronto
If you have been longing for city life and can adjust to the fluctuating weather i.e. from basking in the sun along with a humid climate during summers and experiencing snowing freezing temperatures in the winters, then this place is for you.
Also, if you want affordable living, greater connectivity to the city, happening nightlife, concerts, impressive food varieties, mesmerizing tourist attractions (museums, art galleries, world-famous CN Tower, underwater aquarium), and so on then choose this.
Vancouver
Are you a nature lover? Do breathtaking locations have your heart? Do you wish to wake up with the birds chirping melodiously around you? Then you have a lot to see, we promise.
Also, while enjoying the site-seeing if you also like to indulge in outdoor activities, reasonable sushi, a mix of health and nature, pleasure of enjoying eating as well as drinking, balanced weather, if not great but good enough nightlife, relaxed vibe, strolling/cycling/jogging/kayaking in the morning with mountains by the side and rains pouring most of the year.
Then here's a paradise on earth, but just remember that everything comes with a cost and this city is going to charge you for each moment of bliss as it is pretty much on the expensive side.
Toronto vs Vancouver: Crime Rate (April 2023)
When it's related to the crime rate, numbeo.com comes up with a detailed analysis and stats. So, I have gathered this information from there and you can have a look at their stats.
They have shown the Crime Index and Safety Index which is further based on factors like Level of crime, Crime increasing in the past 3 years, car stolen, insults, robbery and many other factors mentioned below: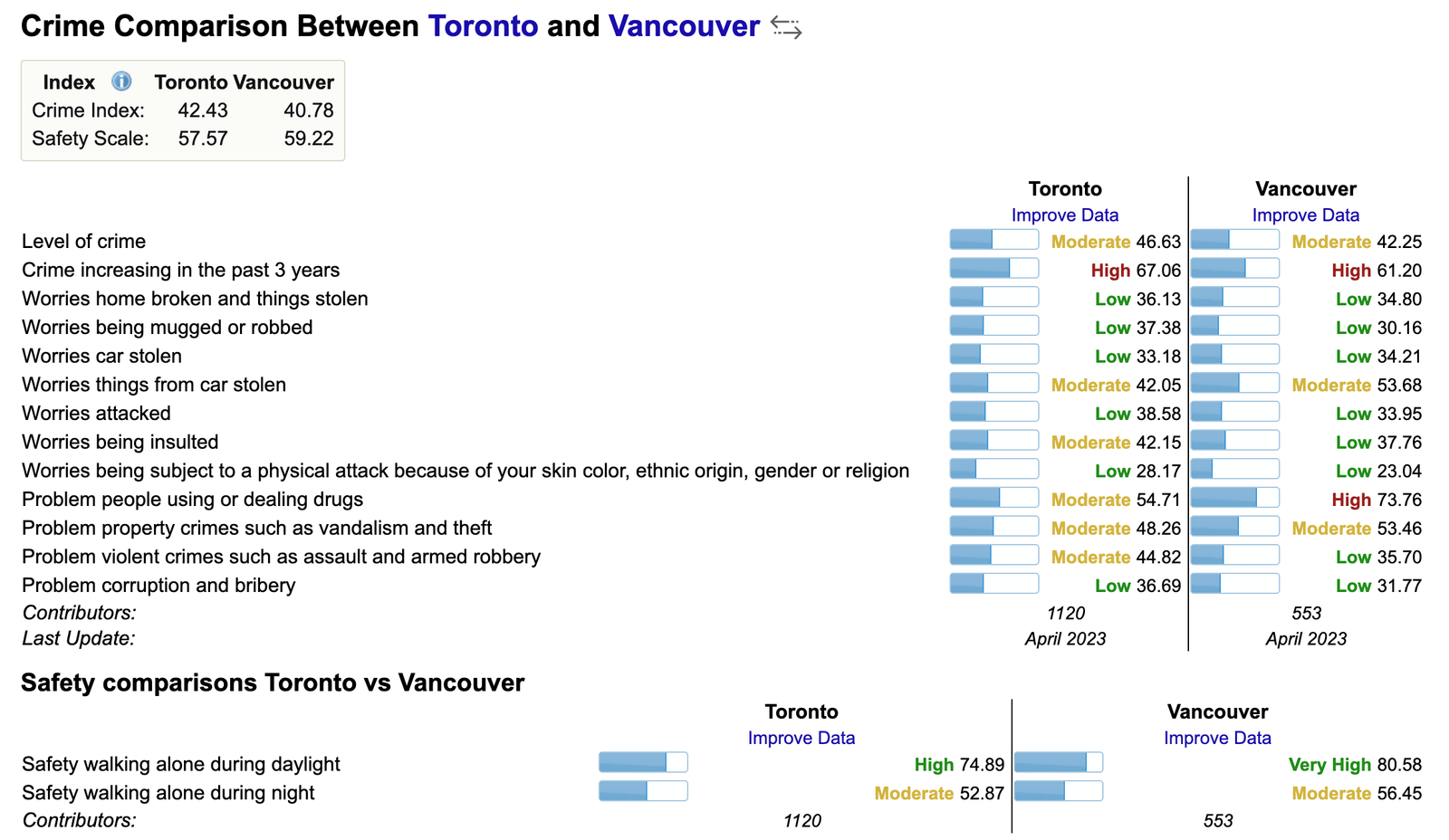 Note: *All these stats are based on 1120+ contributors from Toronto and 553+ contributors from Vancouver in April 2023 who've submitted various details in Numbeo.
---
|Related Guides for New Immigrants:
---
Toronto vs Vancouver: Final Summary
I have tried my best to cover every aspect that a new immigrant would look at while moving to any of these cities. I hope you will find my living in Toronto vs Vancouver detailed guide for new immigrants helpful. It's quite challenging choosing between Vancouver vs Toronto.
---
For all the important details, here are the Official Websites:
---
Having said that it is just based on the detailed well-researched, fact-checked information that I have provided above, you still can look at various other key considerations viz. your lifestyle, your future plans, and your family, other values, specific preferences, especially budget, etc.
The only motive behind this guide was to provide you with detailed researched factual information. You can just believe in yourself and accept that whatever decision you have taken based on these factors, I wish will be worth it.
A small request, If you liked the article, kindly share this living in Toronto vs Vancouver guide with other new commers, so that it can reach those who are still looking for a detailed guide. Please comment below if you liked it. that will give me the motivation to write more on such topics.