What To Pack For Canada From India or any Country?
Packing bags is always stressful as well as an exciting job because it leads to travel to different destinations from a regular boring location. It is more hectic if you are migrating to Canada and you know you cannot return to pick up anything you left behind. 😛
Hence, it is better to make a checklist before coming or migrating to Canada as a Permanent Resident.
In this complete "What to pack for Canada?" guide, you will know :
What to pack in Clothes?

What to carry in a Handbag?
What to carry in the Stationary?
What medicines with a prescription you should carry?
What are the important things to carry in Kitchen Items?
What to pack for Kids / Babies?
What documents you should carry?
Other Miscellaneous but IMPORTANT items to Carry
Without taking much time, Let's start.
Open your notepads and Word files or take your notebook with you and start making a Canada immigration packing list (the most important things that I took with us) which you are placing in your bags.
List of Important Things To Carry For Canada as a Permanent Resident
Let's proceed toward the detailed guide to the Canada immigration packing list :
Luggage bags :
The very first thing to buy big-big bags according to the baggage allowance in the airways for which you have booked your tickets.
Do check the dimensions and weight allowance on the airline website as well as an e-copy of tickets before purchasing bags because I know no one here is interested in paying extra charges for exceeding baggage weight or dimensions.
As some of you, people saw in the photograph taken at the airport in my last blog post "First Landing Experience at a Canadian Airport as Permanent Resident". We had 6 big luggage bags, 3 cabins, and 3 handbags.
After a lot of research on different bags of brands. We chose the VIP bags (Aristocrat) brand for our 6 big luggage bags as it is a trusted brand and moreover they provide 5 year on-site international warranty. Take only wheeled cabin baggage as it is convenient to carry. You can check these that we've picked Aristocrat Aston (latest price here). They worked out really well, we still have them in the original shape.
For Cabin bags, we choose these hard trolley bags (check the latest price here)
What to Pack in Clothes for Canada?
Clothes are the most space for taking stuff. Yes, it's true you all must agree with this.
When you buy clothes in your home country and imagine that feeling of leaving your most recently bought and most loved clothes behind, I know, I feel that lol.
I am a very keen shopper in a matter of clothes, I love buying new clothes very often. It was like a heartbreaking situation when I took all the clothes from the wardrobe and put them on the bed and started picking the most important ones.
I genuinely didn't want to leave any piece of cloth behind because all the clothes that I bought were like a piece of my heart.
Anyway, let's focus on this most important part of packing. If you are coming in summer, do pack enough summer clothes as they are light in weight BUT if you are coming in winter do not forget to pack heavy clothes as winters are worst here.
Jackets: As winters are harsh all over Canada. So that doesn't matter what is your landing destination in Canada.
Pack at least 2 heavy jackets and If you are coming in winter, wear the heaviest jacket instead of packing to manage the weight and space of your bags.
If you already have really heavy jackets then it's perfect, But in case you don't then get at least 2 heavy jackets (Heavy means really warm jackets that can keep you warm in -20. I found great quality jackets at ZARA for my child, husband, and myself and bought them from there. (Bought one-one for each of us). You can also take a look there and H&M.
If you don't wanna spend money there, heavy parkas are available here in Canada at all the Walmart stores you can buy from here as per your need. Prices vary according to the quality, you can find the best parkas in the CAD $100-$300 price range.
💡Suggestion:
It would be good if you could get two jackets from your home country and forget the expenses you spent there because the moment you land in Canada every $ count. You will have to spend wisely as you really need the savings for rent, groceries, car insurance many other major expenses.
Jeans: Pack at least 4-5 Jeans because you shouldn't start spending money after landing in Canada on Jeans.
Inner / Thermals: You should pack at least 2 pairs of thermals.
Socks: Pack 5-6 pairs of woollen socks.
Caps: Minimum 2 Woolen caps are a must.
Gloves: 1 pair of good warm gloves should be good enough.
Mufflers: Must pack 2 pairs of woollen mufflers.
Sweaters: As per personal preference.
Hoodies / Sweatshirts: Instead of sweaters I would prefer to get 2-3 warm sweatshirts. Because mostly you will be wearing sweatshirts under your heavy Jackets.
As heating provision is everywhere in Canada, that doesn't matter if you are landing in extremely cold weather, bring some summer clothes and T-shirts, and summer lowers because it's pretty warm inside every building, apartment, house or condo, literally in any indoor. All the credit goes to heating systems installed everywhere which doesn't go down at all. 🙂
💡 Tip:
Pack some light winter wear that will work in summers as in Canada, summers are not like summers of any other country. lol
MUST pack: A complete formal suit for the interview. A white shirt and formal pants.
Also, make sure your bags consist of at least one or two ethnic outfits as well. Consider it as important because in every province every society has its organizations which celebrate festivals and host cultural programs where you have to go in ethnic dress.
Pick less but very important items like belts, hanky, ties, etc.
Shoes :
1) One pair of formal leather shoes is a must for your job interviews.
2) Do pack a pair of good quality sports shoes because you will have to walk a lot to travel here and there and of course to save money initially when you have no job.
3) Don't bring snowshoes from your home country because snowshoe quality is much better than any other country as Canadian snowshoes are meant to survive in -20 to -50 temperature.
4) Pack a pair of flip-flops or slippers for inside-home footwear.
As I belong to Punjab and our ethnic footwear is "Punjabi Jutti" I picked up 2 pairs of it to wear it with ethical outfits.
What to Pack in Handbag?
Alright, so this is one of the most important parts of this new immigrant packing checklist guide.
The most important items list to carry in a Handbag :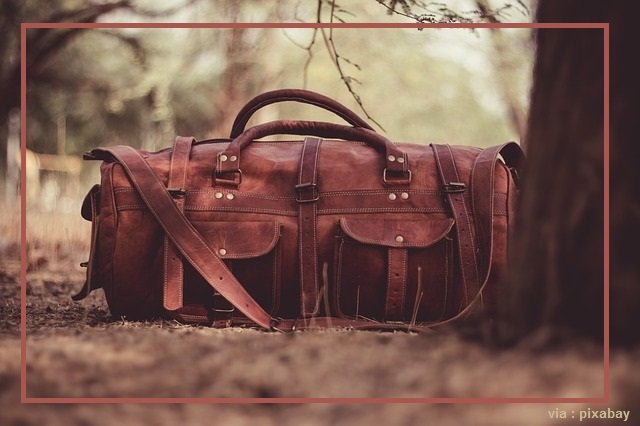 Your handbag should contain things which you need while travelling. It must contain important documents which you need to show at the immigration counter like :
1) Passports
2) COPRs or Landing Papers
3) Printed Airplane tickets
4) Passport size photographs
5) Proof of funds (Bank/Balance certificate or Bank statements)
6) Demand Drafts/Travelling Cheques
7) Photocopies / Xerox of your important documents
8) Money/Currency Exchange Receipt
Although no one checked mine you have to carry it just in case any officer asks you for any details you should have them available on the go and have them with you all the time just for security reasons.
Make sure to keep all the valuable items that you are carrying with you in your handbag.
9) Jewelry Evaluation Certificate: if you are carrying jewelry with you, a jewelry evaluation certificate and photographs of all your Jewelry ornaments are necessary.
Now you must be wondering what does Jewelry evaluation certificate means and where to get it.
Basically, it is a certificate that you can get from any govt. authorized Jeweler. They will provide all the information on their letterhead which evaluates the weight and cost of all the jewelry items that you are carrying abroad. (I wasn't asked about Jewelry or a certificate at the time of immigration or anywhere, But still, I got it with me to be on the safe side.)
I have heard some people didn't get any evaluation certificate, they just took photographs on their phone of each jewelry item they were carrying and just noted them down on the paper and kept that with them for customs purposes.
I would still suggest you get it evaluated and get physical photographs and prints with you just in case, why take any risk?
10) Liquid Cash/Currency Or Money Exchange Receipt: You must be carrying Liquid cash, make sure to get money exchanged receipt. A receipt is given by the authorized currency exchanging company from where you have exchanged your currency or going to exchange it.
11) Traveling Cheques or Demand draft: Well this would be the most important thing in my "What To Pack For Canada? list" to carry with you and handle with care. It is the most convenient way to carry funds from your home country's bank account to Canada with you.
12) Print your Hotel booking or AirBnB reservation with you.
13) Carry your Driver's license from your home country.
14) You can also get any Forex card and load $1000-$2000 as per your requirement. Forex cards act as prepaid travel cards that you can load with any foreign currency of your choice and can use a Forex card just like a credit or debit card to pay for your expenses in your initial days after landing in Canada.
15) Phone charging lids / Phone chargers
Other important items to carry in handbags are (If you have a baby or kid) :
Your baby's diapers
Wet wipes
A small bowl with a lid
Spoon
Sipper
Any baby dry meal
A small packet of snacks
Candies
A small activity book and colour in case your kid feels bored in flight
Toothbrushes
A small toothpaste
Small face wash
Hand sanitizer
Comb
What medicines with a prescription you should carry?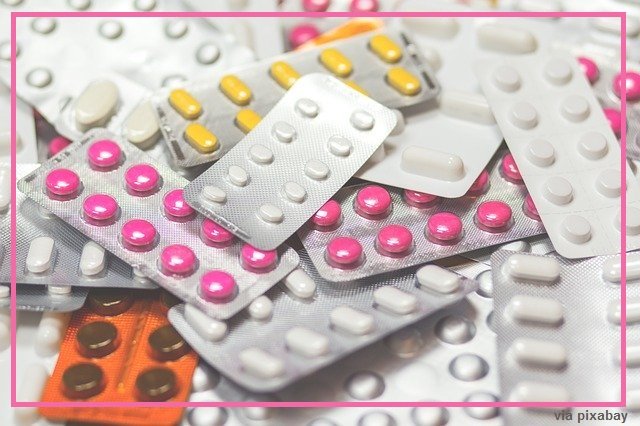 Take all of your important medicines if you have any medical conditions and going to carry some special medicine get stock for at least 3 months or longer as per need. Please make sure you get all of them listed on the prescription from your Doctor.
Especially get a prescription for your babies / Kids if they are coming with you.
Besides those, Take all the commonly used medicines :
Cold
Cough
Fever
Bowl Movements / Lose motions
Vomiting
Headaches
Cotton
Any pain relief balm
Skin burn relief balm etc.
Pack a separate kit for common medicine like fever, cold, cough, etc.
It is necessary to have all those general medicines with you because your health card takes at least 4 months to arrive from the date you will apply. So it is better to take some precautions and have common medicine with you.
Common medicine does not need any prescription. Along with medicine, add bandages, antiseptic cream, cotton, and Dettol to your medical kit.
---
What to Carry in Stationary?
Make a separate stationary kit and yes it is important to pick some items because even small stationery items are costly here in Canada.
Carry all the commonly used small stationery items like :
Pens (Black+Blue+Red)
Pencils
Eraser
Pencil Sharpener
Footer
Markers
Cryons
Highlighter
Stapler (including stapler pins)
A dairy
Cello tape (Small + bigger one)
File Folders
Some Books for Your Kids
Some Craft items
A small Sizer, etc.
---
What Kitchen Items to add to your Canada Packing List?
Pack some important really necessary kitchen utensils from your home.
The reason is most commonly used utensils are expensive here and you would regret it later on if you didn't pick those.
As I am from India I picked the most important utensils like :
1) Nonstick Kadai – (check price here)
2) 3 Liter Pressure Cooker – (check price here)
(Don't forget to pick extra rubber, if you are using a stainless steel pressure cooker)
3) Tawa
4) Casserole
5) Tea Pan
Trust me there is no life without a pressure cooker here. Also, a pressure cooker is much more expensive here.
Better to pick it up from your home country rather than spend more bucks in Canada.
SIDE NOTE:
In Canada, most of you people might know that the base of the burners is flat so pick only flat base utensils.
Being a Punjabi Indian, I love food, especially spicy ones. Spicy food obviously contains Indian spices.
Hence I picked up small packs of every necessary MDH spice from my home country and thanked god I picked them up as Indian spices are so expensive here which you can find in Walmart under the Indian section.
Do pack small packets of food items for the initial days and at least carry the stock for a month such as :
Sugar
salt
Tea/coffee
Rice
Some Ready Made Dry Food (MTR Pooha, Upma, etc.)
Maggi Noodles :p
Dry fruits or nuts etc
Remember the weight allowance while packing. It is always good to pack very small quantities of everything.
IMPORTANT:
Do not bring anything in loose packets. The packing should be sealed.
---
What to pack for Kids / Babies?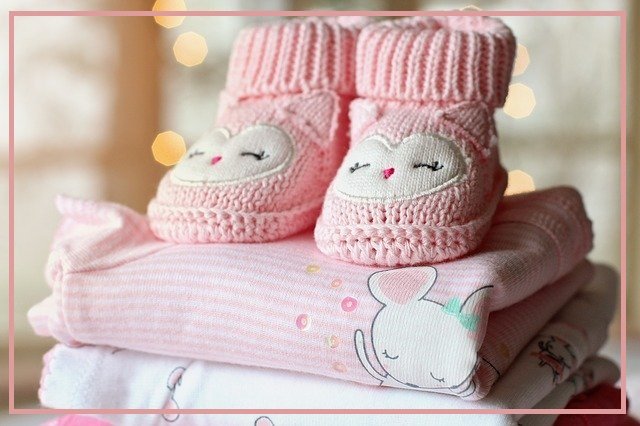 I consider this section very much important as my kid was 3 years old, so your kids items are more necessary than ours.
If your baby still uses diapers, pick up as much as you can (at least one big pack, and carry loose diapers in your bags) as I found diapers are very costly here as compared to my home country India.
Here is the Canada packing list for babies:
2-3 Pairs of Thermals
2 Jackets
All Important warm clothes
Shoes
Socks
Knitted Sweaters
Woollen Caps
One or Two pairs of Ethnic Wear (as per personal preference)
belts
hanky
Toothbrushes
Bibs
inner-wear
diaper bag
diaper changing sheet
small bottles of baby shampoo
Baby soap
oil
cream
Baby toothpaste
moisturizer
most importantly wet wipes.
Pack some cereals or baby snakes for the initial days but later on, you can find a variety of baby food in almost all the stores here, Eg. in Real Canadian Superstore, Walmart, No frills, etc.
Must pack :
Some Small Toys
Books
Colours
These are necessary otherwise your child will feel bored and won't let you do any work like finding jobs online or other household work. 🙂
---
What documents you should Carry?
Arrange all original and important documents in files and place them carefully in your suitcase.
Now you must have already organized all the documents files and put tags/stickers on each file and name files according to the documents inside.
Most importantly pick all your original documents such as:
1) Educational documents
2) Experience certificates
3) Translated documents from your native language to English which you used during the immigration process.
4) IELTS score sheet
5) Education Evaluation (eg. WES)
6) Any special certificate you acquire in your home country
7) Any licensed certificate
8) Your Baby's Vaccination Record
9) Any medication record or Prescription etc.
10) Put your original Driving license in your wallet as your home country's driving license will be valid for 3 months starting from the day of landing.
One separate set of photocopies/xerox of every document should be placed in a separate file folder as getting photocopies is expensive and hectic too.
Shops are too far from every location where you can take photocopies. Photocopies can be taken in a public library at less cost than in other shops here in Canada.
TIP: I would recommend, picking at least ten copies of your updated Canadian-style formatted resume.
---
Miscellaneous but still 'IMPORTANT' items to consider carrying :
Must pick a waterproof bag pack as you have to visit one location to another for an interview sometimes in the snow withholding a certificate file, wallet, water bottle, etc.
So it's better to pick one good waterproof bag pack because you won't be able to hold anything in your hand in cold conditions.
Have some hangers with you and nail-free strong sticker wall hooks as no owner will allow you to hail a single nail in the wall.
A good quality lunch box (I picked this lunch box – check here) for yourself as well as for your kid considering a school-going kid, some swing items like threads, safety pins, and buttons.
Full-size bed sheets as mattress sizes are big here in Canada
One or Two vacuumed packed pillows check – here (open them after coming here to Canada, otherwise they will not get fitted in your suitcase)
Another thing I found really helpful after landing here was the Amazon Fire Stick (check price here). We already had bought it earlier and picked it up with us. It won't let you bore here especially when you have a kid at home. Just connect it with any Non-Smart TV (You can save a lot of bucks buying non-smart TV here) and enjoy unlimited streaming.
Don't pick any heavy blanket but just pick any lightweight cover sheet (the heating system will not allow putting a heavy blanket on you).
Moisturizer cream
Any spiritual belongings ("Pooja ka samaan")
---
What NOT to pack in your bags?
Do not pick any electronic items like :
iron
trimmer
hairdryer
electric burner etc.
cause it does not work in Canada due to voltage change requirements.
---
Our real mess behind What to pack for Canada? 😛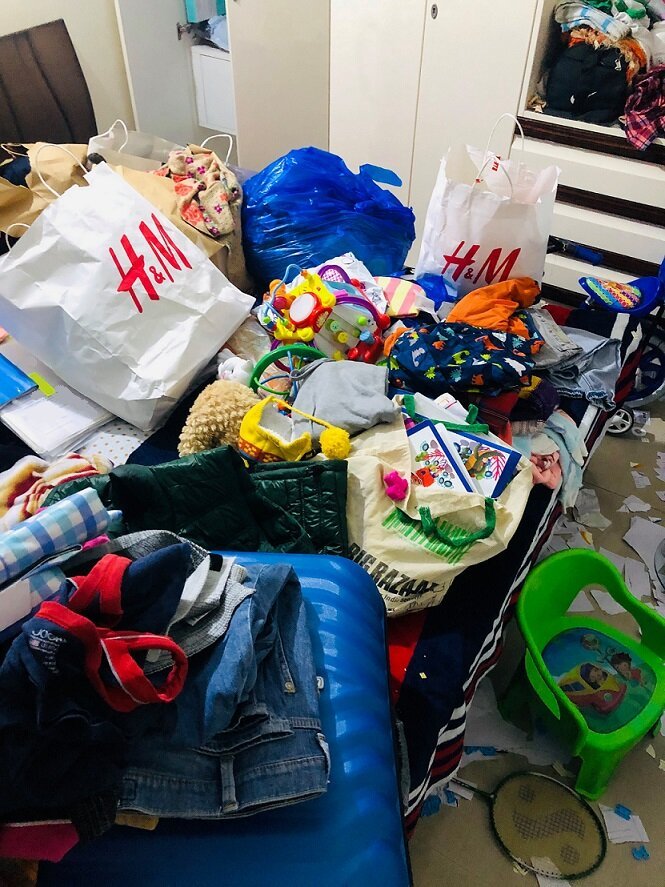 A quick checklist of What to Pack when moving to Canada as PR.
Save this important Canada travel checklist.
#1. Clothes checklist
Jackets (at least 2 heavy)
Jeans (4-5)
Inner/Thermals (2 pairs)
Socks (5-6 pairs)
Caps (2 woolen Caps)
Gloves (1 pair)
Mufflers (2 pairs)
Sweaters (as per your need)
Hoodies/Sweatshirts (2-3)
Summer clothes (T-shirts, lowers, etc.)
A formal Suit
Ethnic dress
Belts, hanky, ties, etc.
#2. Shoe checklist
Formal leather shoes (1 pair)
Sports Shoes
Don't bring (snowshoes)
Flip Flops
Ethnic footwear
#3. Carry-On Handbag checklist
Passports
COPRs
Airlines tickets 
Passport size photos
POF (proof of funds)
DD/Travelling cheques
Photocopies of documents
Currency Receipt
Jewelry Certificate
Cash
Hotel booking photocopies
Driving license
Forex Cards/Masters Cards
Phone charging lids
#4. Carry-On Handbag Checklist for Kids/Babies
Diapers
Wipes
Bowl with lid
Spoon, Sipper, Forks
Dry meal
Snacks/Candies
Books/colours
Tooth Brush/Toothpaste/Facewash/Sanitizers
Comb
#5. Medicines
All your important commonly used medicines as mentioned above.
#6. Stationary
Pack as per your need according to the details above.
#7. Kitchen Checklist
Kadai
Cooker
Tawa
Casserole
Pans
Small packets of sugar, salt, tea, coffee, rice, ready to eat meals as mentioned above.
#8. Kids/Babies Checklist
Pack as per your space and follow the detailed list mentioned above.
#9. Documents
#10. Check the important Miscellaneous Items list
---
---
Check my detailed VLOG :
[Please LIKE / SHARE / SUBSCRIBE]
---
Final Words :
Well, I tried my best to make this list for you that I found important to mention and I picked personally, But still, you would need to manage space in your bags. We were able to pick all those things because we were 3 and were allowed to take 2 bag(s) at 23kg EACH of us, Hand luggage included 12kg including check-in, handbag, and 3 cabin bags EACH of us.
So that was my list of "What to pack for Canada?". I believe you would get a better idea now. I hope you won't need to find it here and there or watch a lot of videos to make your Canada travel packing checklist. 🙂
Stay connected for more latest updates and my experiences after landing in Canada. Many more important blog posts are on the way that you will find really helpful.
Thanks for reading. I wish you a Happy Journey!
---
[Friendly Affiliate Disclosure: This article contains some amazon affiliate links You will not be charged anything extra for your purchases by using my amazon affiliate links. I may earn a little commission. it will support me in maintaining the website expenses.]