There is still confusion on where to live, Calgary or Edmonton. Well, the choice is personal, however; there are certain factors that need to be considered before the deciding factor comes to the final.
For instance, one must be well aware of the population, climate, lifestyle, places of interest, the comfort of living, jobs, and similar factors.
Calgary is the biggest city as compared to Edmonton. A big tech sector is moving and making a base in Calgary. Calgary has a modern downtown outlook, is one of the wealthiest and cleanest cities, offers more white-collar jobs, has a hot jobs market, and still affordable housing as compared to the biggest cities like Toronto or Vancouver. Calgary's average house prices are higher than in Edmonton.
The average house price in Calgary in Q4 2022 is around C$6,10,000, and on the other side in Edmonton, the average house price is around C$4,70,000. Whereas Edmonton is a little smaller in terms of area, being Alberta's capital Edmonton offers a great work balance, offers more blue-collar jobs, stable jobs market and an affordable housing market as compared to Calgary.
In this guide, we shall discuss all the valid and essential factors for you to decide between these two dream destinations.
People living in Calgary have their own experiences and similar behaviour is with residents of Edmonton too. These places have their own distinct features and unique experiences.
As both cities are in Alberta and Alberta has the lowest tax rates (5%) in North America.
Let's discuss individual locations with the support of these factors.
Calgary vs Edmonton: Basic Difference
Calgary:
Area: 825.56 km²
Population: 1,635,000 (1.6 million+)
GDP: US$ 97.9 billion (approx)
Calgary ranks third in its GDP
Calgary is one of the wealthiest, cleanest, and most liveable cities in Canada.
Calgary has the largest footbridges in the world which have the biggest nexus of connected buildings.
Wind-powered C-train – which uses 100% of the electricity purchased from the renewal sources, which is North America's only wind-powered public transit C-train system.
Calgary had an old stock exchange (ASE), The Alberta Stock Exchange which was established in 1913.
Edmonton:
Area: 767.85 km²
Population: 1,461,182 (1.4 million+)
GDP: US$ 88.2 billion (approx)
Capital of Alberta
Popular as the oil capital of Canada
Edmonton has the largest shopping mall in North America called 'West Edmonton Mall.
Both are the cities of Canada and have their own significance. Thus, it would be great to take a read at the pros and cons if you plan to travel to any of these.
Settling would be wise once you are aware of all the good and bad sides of these two cities.
Although the weather is cold in both cities, the climatic conditions vary slightly if you have to compare the two.
Weather in Calgary vs Edmonton:
Calgary offers extremely cold winters but, not as cold as Edmonton. Snow can be seen for more than 88 days annually in Edmonton, whereas Calgary experiences 65 days of snow depth.
In simple words, Calgary enjoys a prairie-steppe climate. As a result, residents of Calgary enjoy sunny weather and the summers even experience some rainfall. People residing in Calgary also enjoy windy climates.
On the other side, Edmonton enjoys some cool weather even in summer. As a result, Edmonton experiences a dry climate with little summers and humidity. This is what makes it challenging somewhere for Edmonton residents.
I would like to include a comment posted by Joan here, He has been living in Edmonton for a while, and mentions that:
Edmonton actually enjoys a lovely summer with warmer temperatures both during the day and night than Calgary. This is due to Calgary's proximity to the mountains which keeps it cooler than Edmonton from May through September. In Edmonton, one can grow vegetables that Calgarians cannot due to Calgary's cooler days and evenings compared to Edmonton's summer temperatures and long days.
Cost of Living in Calgary vs Edmonton 2023:
Let's find out the minimum hourly wages in Alberta.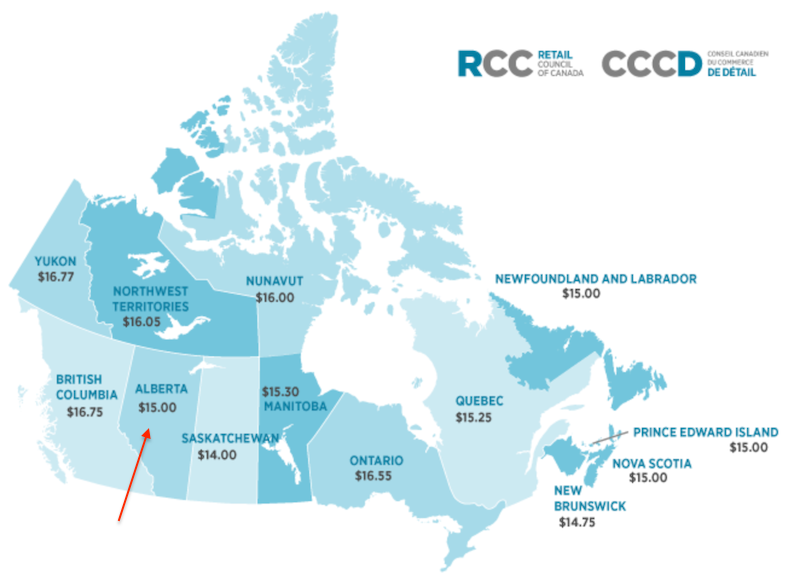 As of October 1, 2023, the minimum hourly wage rate in Alberta is C $15.00 an hour. Which remained unchanged since Oct 1, 2018, it's been 5 years.
Please don't quote me on that, it's based on the sources I have gathered. I did my own research to gather this information for you.
If you compare the previous years with 2021, you would need about $5,339 CAD to make a fully comfortable living in Edmonton.
For those planning to settle in Calgary, the cost of living in Calgary must be at least $5,400.00-$5,500 CAD to make a fully comfortable living here as well. So I don't see much difference in the cost of living in both cities.
Overall average  Calgary is a bit on the costlier side as compared to Edmonton, but not much in terms of actual numbers if you compare your restaurants, groceries, childcare, monthly rent etc.
The calculation is presented on the basis of the cost of living per index.
Calgary vs Edmonton Real Estate Market
Buying your first home in Calgary or Edmonton is still affordable as compared to the best cities such as Vancouver, and Toronto.
That's the reason many new immigrants are moving out from Toronto or Vancouver to Calgary or Edmonton for affordable housing and a balanced life.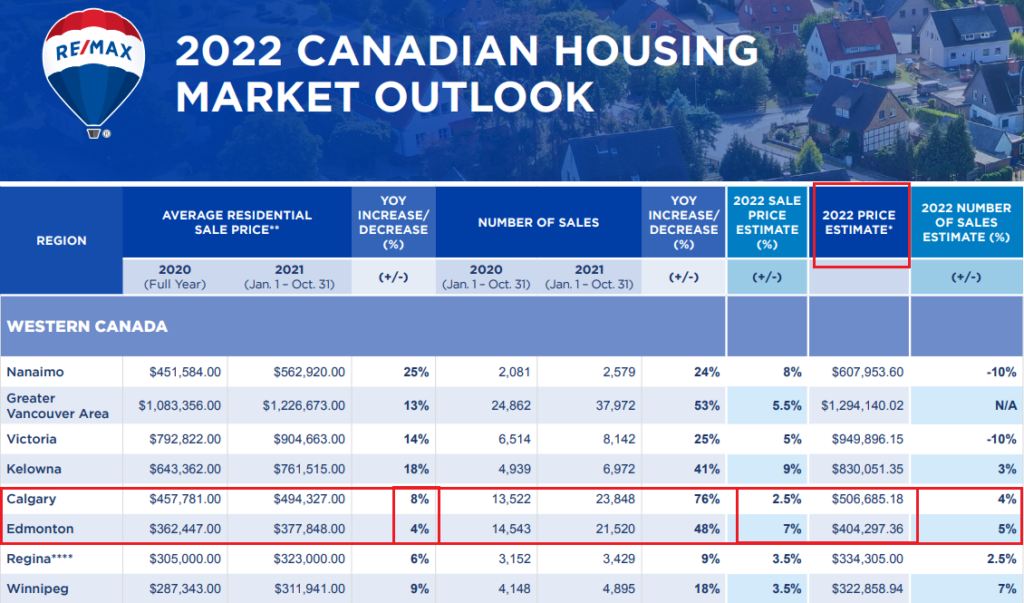 To know the current and most updated housing market outlook trend, Let's go to Remax.ca, which is one of the great sources to get updated information.
Calgary Housing Market:
Many immigrants are moving from the biggest cities to Calgary in 2021, and we will see the trend continue in 2022 as well.
The demand for real estate boomed last year, and Calgary is seeing this boom after a long period of time. Housing prices in Calgary eventually surged by 8% to 9%.
In the recent reports gathered by remax.ca, 2022 gonna be the seller's market in Calgary and the estimated average housing price would be between $505,000 CAD- $510,000 CAD. Which would be about a 2.5% jump as compared to the previous year.
If we compare with the previous year 2021, the average price of a house in Calgary was somewhere between $490,000 – $495,000 (CAD).
If we talk about a detached house the average price is almost around $505,000 (CAD)
And finally, if you talk about the average prices of apartments or condominiums in Calgary, that will cost you somewhere between $250,000 – $275,000 (CAD)
Edmonton Housing Market:
In the same Calgary demand for the real estate market surged in Edmonton as well in the previous year 2021. Which was increased by about 4% than the 2020 numbers.
The number of sales increased by around 45% to 48% in the year 2021. Which is going to continue in the year 2022 as well.
Whereas in Edmonton, prices of houses are still more affordable than in Calgary, In Edmonton average home would cost you somewhere between $360,000 – $380,000 (CAD).
Which is most likely going to be increased to starting 400s. Estimated to be between $400,000 to $405,000.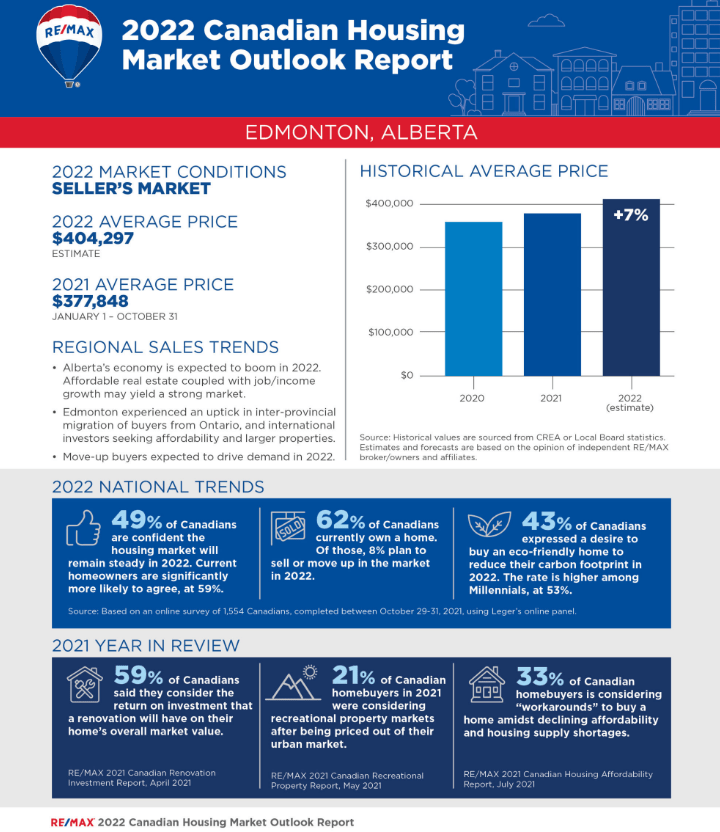 We may see a good jump in prices as compared to Calgary by an estimated +7% as per Remax.
Jobs sector Calgary vs Edmonton:
Both locations have a demand for certain job profiles. Although both cities need to have well-developed and systematic public transport, Calgary can be considered better compared to Edmonton. Thus, job comfort is better if you relate the travel mode from home to the workplace too.
For any job opportunity, you would require a work Visa or move as a permanent resident. Before you apply for a visa, it would be wise to check any job opportunities with successful income. If you have a job ready to join before stepping into the city, it will make you more confident to shift.
The recent reports stated that about 430,000 private-sector job opportunities were available in Canada as of 2019. This means you will see more increased opportunities in 2023.
Edmonton sees about 25% (approx.) of workers working for the public sector. These include government roles, the educational sector, health care, and similar profiles.
Calgary Labour Market (April 2023)
As per the Calgary labour market review report, In Calgary's economic region, the total employment was 931,900+.
Unemployment rates in Calgary dropped in April 2023, here are the stats of unemployment rates in Calgary Vs Canada overall.
| | | |
| --- | --- | --- |
| [Unemployment Rate] | [April 2022] | [April 2023] |
| Canada | 5.3% | 5.0% |
| Alberta | 6.1% | 5.9% |
| Calgary (Economic Region)* | 7.0% | 6.4% |
| Calgary (Census Metropolitan Area)* | 7.0% | 6.4% |
Let's take a look at Calgary's labour market April 2023 report:
|Data source: calgary.ca
Edmonton Job Market
As of June 2022 data shared by Edmonton.ca, the unemployment rate moved lower from 6.2 % to 5.9%, which was the lowest unemployment rate since the end of 2015.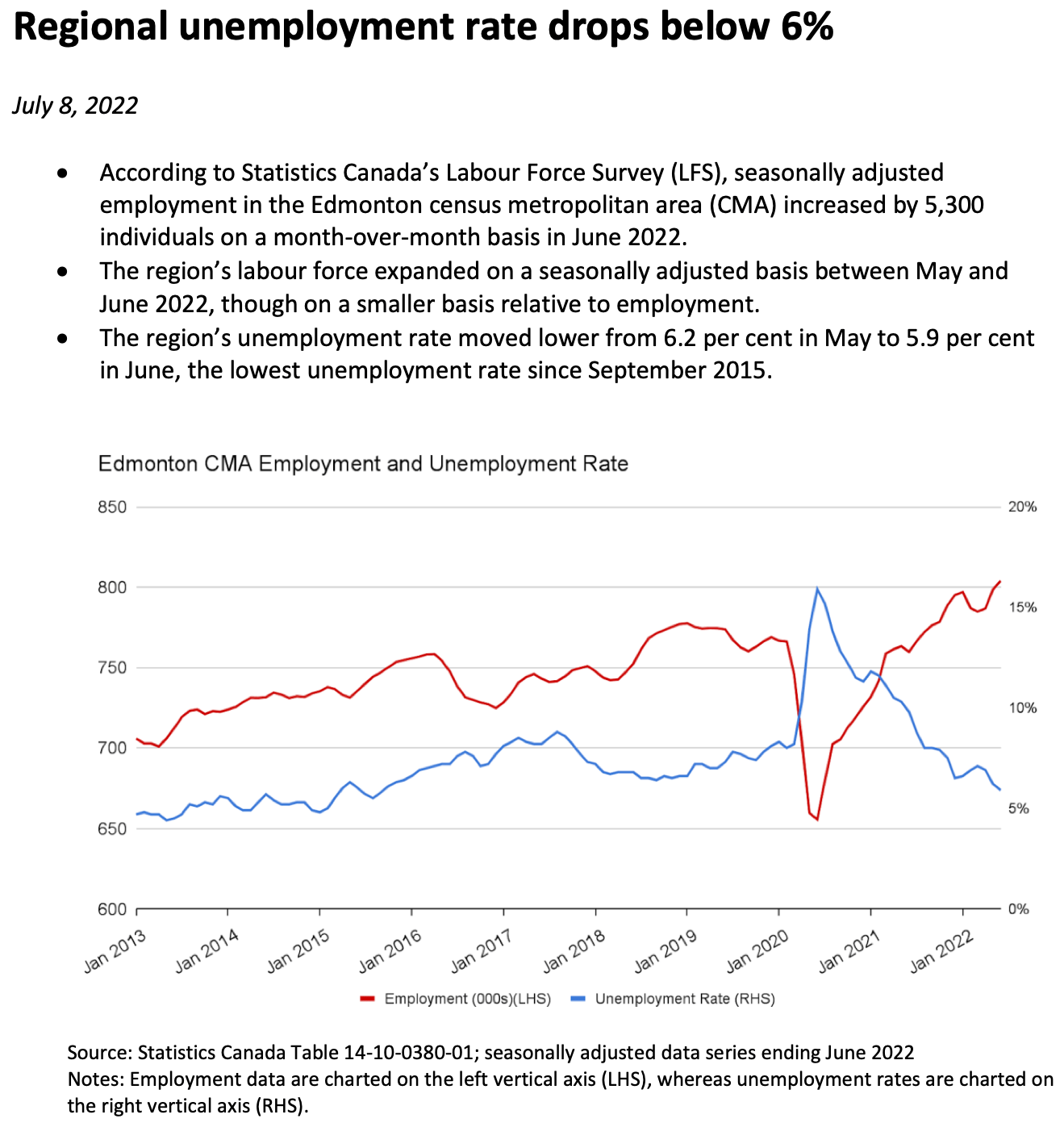 |Data source: edmonton.ca
Things to do in Calgary vs Edmonton:
It would take a while for you to understand the things to do in Calgary and Edmonton. Regardless of whether you are visiting these cities for travel purposes or job purposes, it would be good to know the various ways you can spend time in these two cities.
In this guide, we have divided the things to do into attractions, shopping, restaurants, and nightlife for you to have a clear understanding of the two cities in terms of popularity. Take a read for all the famous stuff about Calgary and Edmonton ahead.
Attractions
Here is a short summary of some popular attractions in Calgary and Edmonton.
Attractions in Calgary:
Visit the Calgary Tower. The tower is at a height of 1228 meters above sea level and offers you an experience of 360 views of Calgary city.
A halt at the Calgary Zoo is also worth it if you are an animal lover. Most tourists love to be a part of this day's adventure with kids and family.
Click some pictures of fascinating sites such as the Calgary Statue, Canada's Hall of Fame, the Military Museum, and the Heritage Historical Park.
The nightlife is the talk of the town too. Cowboys Nightclub in Calgary is an of its kind experience.
Attractions in Edmonton:
Edmonton's River Valley Parks are the best, to begin with. These beautiful parks give you every reason to take a walk with your loved ones.
The Art Gallery of Alberta in Edmonton is also an amazing experience for art lovers. Take some time to explore the amazing artwork here.
Take a tour of the Snow Valley which looks magical during the evening time! Some more places to name are the West Northlands Park, Elk Island National Park, and the Alberta Aviation Museum.
Shopping in Calgary vs Edmonton
Overviewing the shopping complexes in both locations.
Shopping Complexes in Calgary:
To name a few big and prominent shopping malls in Calgary, Stephen Avenue Walk, CF Chinook Centre, Core Shopping Mall, Sunridge Mall, Southcentre Mall, Cross Iron Mill and Eau Claire Market are some of the best!
You can shop your basic needs for luxurious stuff here. People love to meet and greet each other at the best eateries inside these malls.
Shopping is fun with a variety of places to explore in Calgary. If you talk about the largest mall, Edmonton has taken away the limelight. Continue to read and you will know the reason why. The crowd is friendly in both places however, Edmonton sees more crowds compared to Calgary at the malls.
Shopping Complexes in Edmonton:
Edmonton has huge malls compared to Calgary. West Edmonton Mall, Edmonton City Centre, Kingsway Mall, and Londonderry Mall are a few good ones to name. The crowd is friendly and decent at these malls and you can spend an entire day chitchatting and shopping. Sipping hot coffee during wintry days at these malls is the best thing to do!
People love the idea of visiting the mall during weekends. The crowd gathers to spend some time outside at a good eatery at the malls or café houses post-shopping. The friendly attitude of the shop vendors, as well as the crowd, makes shopping fun to explore.
Restaurants Calgary vs Edmonton
Restaurants in Calgary:
Restaurants like The Bow Valley Ranche and River Café make you feel at home and at the same time give you the true meaning of a perfect vacation.
As heard from the local residents, the OEB Breakfast Co. Bridgeland and The Himalayan are known to serve fresh food.
Foodies can make a halt at the Blue Star Diner and SS106 Aperitivo Bar for a lip-smacking dinner.
To name a few good more as recommended by tourists, the Workshop Kitchen+Culture, Santorini Greek Taverna, and Minas Brazilian Steakhouse make a better choice too! Once you eat here, you are bound to fall in love with these restaurants.
There are tons of incredible options, we might cover in the upcoming blogs.
Restaurants in Edmonton:
ATLAS Steak+Fish, Padmanadi, Vaticano Cucina, and Café Amore Bistro are some of the popular eateries in Edmonton.
Visit the Guru Restaurant, Dadeo Diner and Bar, The Canadian Brewhouse, or the Homefire Grill for delicious treats! These eateries have received excellent reviews online and the places see repeat visitors.
Some more names on the list to note are the Bistro Praha, Smitty's Family Restaurant, La Ronde Restaurant, and Ruth's Chris Steak House. The service and quality of food are simply the best at these named places.
Edmonton has tons of amazing food places to visit.
Nightlife in Calgary vs Edmonton
Nightlife is better in Calgary if you have to compare it with Edmonton; however, both are special in their own ways.
Before we dive in and take a look at nightlife, if you are a student and planning to hang out with your friends at nightclubs/pubs, must check our legal drinking age in Canada by province guide.
Let us take a look at some of the popular nightclubs and bars in both cities.
Nightlife in Calgary:
Go crazy at some of the most happening nightclubs such as the Habitat Living Sound, Milk Tiger Lounge, Commonwealth Bar & Stage, Knoxville's Tavern, Twisted Element, The Hifi Club, and Cowboys.
These places will make you see the good crowd and most of the nightcrawlers excited for some loud music and dance.
Every club that you visit has a different look and theme from within. It's the best thing you can do on summer nights. A few drinks down the belly with some cool and trendy music won't do any harm, would it?
Nightlife in Edmonton:
Edmonton also sees some of the most packed months when it comes to nightlife. A crazy crowd, happening costumes, loud music, and unlimited drinks will blow your mind at some of the popular nightclubs!
Bar Clementine if you wish to explore the top of the bars. A few more names to follow are The Next Act, Blues on Whyte Pub, Red Star Pub, and The Three Vikings. For some unique and cool music by popular DJs, you may also visit the Black Dog Freehouse. Find out from the regular visitors and you will know why these clubs and their ambiance are cherished by the local residents.
Calgary vs Edmonton: Top Famous Things
From living to exploring, food to outdoor activities we have covered it all.
What is Calgary famous for?
If you have a love for nature, mountains, adventure, and snow-capped landscapes, Calgary is the place to be. Whether it is having a fresh breakfast in the morning at a cool restaurant with a loved one or attending the popular World Water Ski Championship, Calgary shows you all the colours of romance and adventure.
Calgary is also being called YYC. Do you know Why Calgary is called YYC? Find out here.
To speak in a simple manner, Calgary is popularly known for hosting the Winter Olympics, The Calgary Stampede, NHL Hockey Team, shopping, mountaineering, winter games, and more…  The Calgary Stampede is one of the most popular outdoor shows in the world.
Calgary offers you some of the top museums and each of those is known for its distinct display of art and artifacts.
What is Edmonton famous for?
Talking of Edmonton's attractions, the place will leave you confused about where to begin. It is because the list goes on from museums and parks, from shopping to romantic dinners, and from travel to nightlife.
The scenic beauty will leave you enthralled. A few reasons why Edmonton has gained popularity are the River Valley based on Edmonton North has the largest stretch in North America with urban parkland.
The West Edmonton Mall is the largest one to name in North America.
On the education side, The University of Alberta has released 67 Rhodes Scholars. From the art and cultural point of view, the Art Gallery of Alberta is known to have a collection of more than 6000 classic objects. Some of the famous NHL Hockey players were born in Edmonton.
Last, but not least, Edmonton is known for its 70 spacious golf courses in its metropolitan area.
A major difference between Calgary vs Edmonton
If you look closely at both cities, both cannot be compared with each other in terms of lifestyle and growth. Both cities are equally competent in developing more opportunities for outsiders and making a better living.
As stated earlier, public transport remains a challenge for both sides, however; Calgary can be rated still better compared to the latter.
On the other side, the nightlife of Calgary is more rowdy compared to Edmonton. Luxury is what both the cities enjoy as from top luxurious salons to spas, you have everything to explore and spend money on.
---
|Related:
Living in Calgary Vs Edmonton: Final Summary
It would be a challenge to choose between Calgary vs Edmonton as it is like choosing a favourite child from your children. Both cities are adorable. Thus, it is your personal preference and decision to reside or travel to the respective city.
Although many people often prefer Calgary based on many factors that I have discussed above, there are travellers who have given five-star ratings of their experience in Edmonton.
The best thing to do would be to find the best things about the city and the reason for moving. Once your objective is clear the settlement, it would be easy to decide to which city you would wish to move.
Another piece of advice to give would be to do some more homework and check with your friends or family who have been to these cities.
Understand the lifestyle and living standards of your known people before you make the final Calgary vs Edmonton which is better to live in? decision.
Once you have all the information and details clear, believe in yourself and accept that whatever decision you have taken will be worth it!