In this detailed WES Canada ECA step-by-step process guide, I have tried to cover all these important steps :
About ECA
Types of ECA
What is required for ECA?
What's the cost of WES ECA?
How to apply WES for Canada step by step?
WES Canada processing time
WES Canada fees
Find the WES ECA Certificate number
How to send WES ECA documents?
WES Canada ECA validity
Kindly read it carefully so that you won't miss any steps. Let us proceed with the steps :
What is the ECA (Educational Credential Assessment) Report?
An Educational Credential Assessment (ECA) is used to verify that your foreign (home country or country of education except for Canada) degree, diploma, or certificate is valid and equal to the Canadian one.
Degree/Diploma or certification evaluation is also called document-by-document evaluation and the evaluation of each course you have taken in your degree/diploma or certification is called Course-by-course evaluation.
For immigration purposes, you will need 'Document by Document evaluation'.
Types of Educational Credential Assessment (ECA)
There are different types of ECAs offered by different organizations and they specifically deal in these areas:
Immigration purpose
Higher and Continuing Education
Licensure
Employment
If you are looking for an ECA report and want to immigrate to Canada, you will need to get an ECA for Canadian immigration purposes only. If you have another type of ECA except for immigration purposes, your ECA will not be accepted by IRCC.
Why do I need an Educational Credential Assessment (ECA)?
Canadian government does not consider any degree/diploma/certification legit if it is earned outside Canada. Hence, to validate your study or degrees in Canada you will need to evaluate your study as per Canadian standards from designated organizations.
Getting an ECA provides additional points up to 150 to your comprehensive ranking score (CRS) depending upon your highest education.
You do not need to provide an ECA for any degree/diploma or certification which you have earned in Canada.
Is ECA Required for Express Entry?
Yes! ECA is required for Express Entry, If you have completed your education outside Canada, you need a credential assessment to be eligible as the principal applicant for the Federal Skilled Workers Program or to earn points for your education that you have completed outside Canada.
Hence, ECA is a necessary step to take before creating an express entry profile to be eligible for express entry and to get more CRS points.
You can also earn points for your spouse or common-law partner's education if they are coming with you to Canada.
Is Spouse's ECA Required for Express Entry?
Well, only the primary/main applicant needs to get their credentials assessed by any of the designated organizations and spouse degree assessment is not necessary but I strongly recommend getting it assessed.
The reason is your CRS scores will be boosted by getting your husband/wife credentials assessed which is directly proportional to increasing your chance of receiving an Invitation to Apply (ITA).
Where can I get an Educational Credential Assessment (ECA)?
Designated organizations listed by IRCC for ECA
What to do if you have 2 or more Degrees/Diplomas/Certifications?
To get full points for having more than 1 degree/diploma your one credential must be at least 3 or more years in length and definitely, and you will need a valid educational credential assessment for each degree/diploma/certification.
In most cases, you only need an assessment for your highest level of education.
For example, if you have a Master's degree, you only need an assessment for a Master's degree. You don't need one for your Bachelor's degree but to get points for having 2 or more credentials, you need an assessment for each one.
How much is the WES Canada Fee?
Each designated organization sets its own cost for an ECA.
So here are the WES Canada ECA Fees details:
As of November 2023, a standard immigration purpose WES evaluation charges $240* CAD which does not include delivery fees, additional fees, or a 13% Harmonized Sales Tax (HST).
Additional fees can depend upon delivery costs and how you choose it to be sent and with courier delivery.
| | |
| --- | --- |
| So if you choose Standard delivery (without tracking) | $11 CAD |
| | |
| --- | --- |
| U.S. and international courier services (per address) | $89 CAD |
| Next-day courier delivery (per address, Canada only) | $26 CAD |
For all the updated pricing details/fees, visit: ECA fees here
As every organization has different fees and is subject to change at any time I think it is always a good practice to visit the above-mentioned official website before applying.
How long does the WES ECA report take?
The time to get your education assessed is different for each designated organization. It can take from a few weeks to a few months.
For example, the standard processing time for WES evaluation (World Education Services) is 'seven' business days after receipt, review, and approval of all documents, and payment in full.
IRCC applications require 35 business days for processing.
According to the WES website, the evaluation will be completed in 35 business days after receipt, review, approval of all documents, and payment in full but as of now, they are taking a long time to complete the evaluation because WES is receiving a huge amount of requests for credential evaluations.
There will be delays if the documents submitted are incorrect or if WES needs additional verification from your side.
Documents required for WES Canada ECA
Well, WES is an obvious choice for many candidates as it offers credentials evaluation in less processing time and is cost-effective compared to other organizations.
I also chose WES for my and my husband's credential evaluation. So that is the reason I have explained all the details regarding the WES credential assessment for Canada.
Documents required for WES evaluation:
#1. Degree Certificate
For the completed study, you can send a clear and legible copy of the degree to WES.
"Do not send your original documents."
You can send a copy of the provisional degree certificate if the final degree certificate has not been received yet. If received, send a copy of the final degree certificate.
#2. Mark Sheets/Transcripts
This is an official document issued by the institution responsible for conducting the examinations. It lists all subjects/papers taken and marks/grades earned for each year of study and must include your university student identification number.
For Example, a 3-year degree program consists of individual 3-year mark sheets that describe the subjects taken and marks scored in each subject along with the student's identification number and all.
For WES evaluation you will have to send all 3 years (1st+2nd+3rd year) mark sheets not just the last year's mark sheet or degree certificate alone.
– If your degree consists of several semesters, then you will need to send a final transcript that describes all subjects of every semester, marks scored in each subject, student identification number grade description etc.
– If your University does not give a final transcript, you can request them to provide a copy of each semester's mark sheet. Ask them to sign and stamp all photocopies and put them in one envelope. Seal and get stamped with a university stamp in front of you.
You can also preview the detailed list of documents required by WES to be with the evaluation process.
SIDE NOTE:
WES only accepts documents issued, attested and sealed by the designated official at the institution/university that conducted your examination. Attestations by individual professors or the external notary public will not be accepted.
How to Apply for WES Canada? Step-by-Step Guide
Before you start applying with WES for ECA, check the following things on WES's website:
Before starting to navigate on the website, always make sure you are on the WES Canada website, not the USA one.
You can see that on the top right corner of the Website where a flag is listed with the country name :

Degree equivalency tool
WES has a free tool to check the equivalency of your degree to a Canadian degree called the "Degree Equivalency" tool. Using the equivalency tool gives you a good idea of what to expect as a result after evaluation.
If your degree is not listed on the list, it doesn't mean that WES will not evaluate your credentials.
Let us start the steps to apply for WES Canada ECA :
Create a WES account: 'Get Started'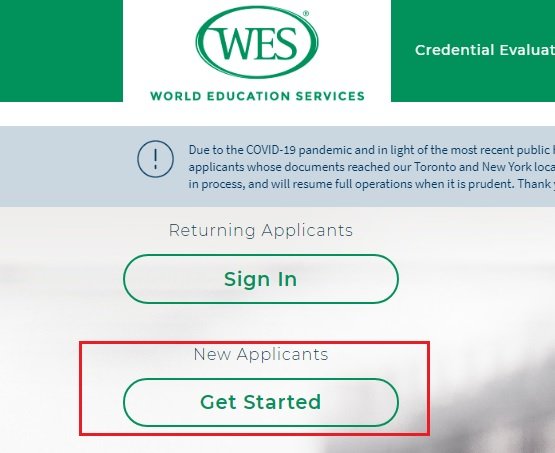 Click the "Apply Now" tab in the title bar.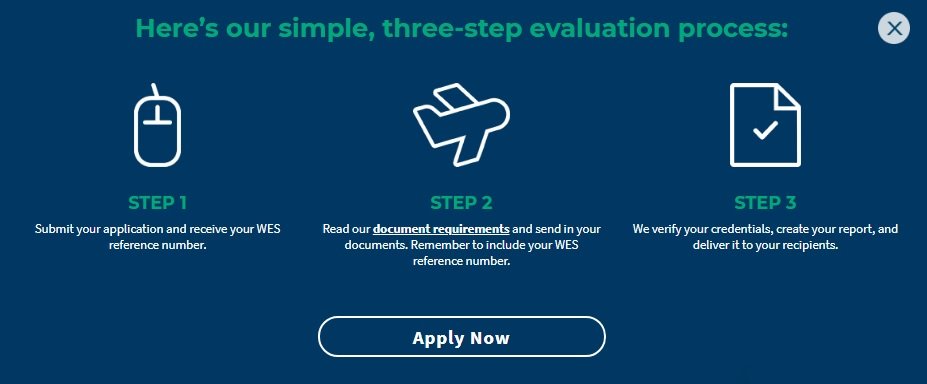 Click on "Canada"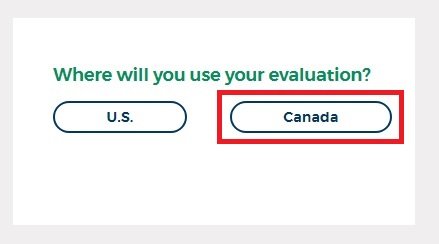 Then choose "ECA application for IRCC"

Start filling in your details and press "Create Account".
During account creation, the portal will ask you to provide a recipient address.
Firstly, you will give your address there and when the portal asks you to give the "Recipient 2" address, fill in the address of IRCC where WES will deliver the second but electronic copy of your report.
Pay your WES Fee
To process your application you have to pay your fees online.
It will cost $240 CAD + taxes.
You can choose standard delivery at $11 CAD which can take a few weeks but you can not track the courier.
If you choose another courier delivery option with an $89 CAD payment for international delivery and $26 CAD for inside Canada delivery,  which includes tracking and takes about 10 business days to deliver anywhere in the world mostly through FedEx.
IMPORTANT: If you were not a tax resident in Canada or you are not living in Canada at the time of your application, you can claim a refund of the HST (Harmonized Sales Tax) that was charged on your ECA fees during your application.

*You can contact WES by email and follow the process and your credit card should be credited with the HST amount once WES approves your refund request HST.
WES Reference Number
A reference number will be generated which you will need in all your communications with WES.
If you are sending documents to WES directly after receiving your sealed and stamped copy from the university, then write your reference number on your transcript envelops and make sure you write your reference number in an empty space on the front side, not on the backside or seal or signature or anywhere on flaps.
If your university will send documents to WES, then in the "Academic Records Request Form" fill in your reference number. Documents received without any reference number will not be accepted by WES which leads to uncertain delays.
Send Documents
If your university is taking responsibility for sending documents on your behalf, then you just need to give them a filled "Academic Records Request Form" with university fees.
If you are sending your documents on your own, you can put all your documents in one master envelope which will further consist of a sealed and stamped envelope received from your university and sent to WES with a reference number on it.
*IMPORTANT: Please do not open a sealed and stamped envelope received from your university as WES is not going to accept an opened envelope. Make sure you put your reference number with your WES address on the outer packet.
How to Send Documents to WES?
There are two ways to send documents to WES :
You can ask your university if they can mail your transcripts directly to WES and if they will send them directly then you will have to use this "Academic Records Request Form" given on the website along with the fee demanded by the university.
In some universities, you will need to fill out some internal forms for the university referral but it depends on the university and its rules.
If your university is not sending documents directly to WES. Then take attested copies from the university, and put them in an envelope. Sealed and stamped it from your University.
Take another big envelope; place the sealed and stamped transcript envelope in a big envelope.
Close it and write the full address of WES and the reference number generated under the WES account.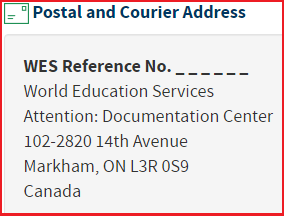 Please write everything in clear letters on the front of the envelope and do not fold the outer as well as the inner envelope.
How do we check WES Application Status?
You can check the status of your application by logging into your WES account with the same credentials.
#1. The first status of your application will be "Waiting for required documents"
#2. After WES received the required documents sent either by you or the university, the status will be changed to "Documents received – Review in Progress"
#3. The third status will be "Waiting for verification from the institution": No matter whether your university is sending documents directly to WES, WES finds it necessary to verify the documents with the issuing institutions.
In some cases, WES will send a copy of your submitted documents to your educational institution/university and ask them to authenticate the documents.
#4. Status changed to "Completed": you will be able to see your electronic report in your account.
Once your evaluation is completed you most probably will receive an email. You can download a PDF copy of your report by logging in to your WES account.
You will also be able to track the transit of your ECA report (hard copy) using the tracking IDs provided but there is no need to wait for a hard copy of your report for the Express entry profile as you already received a PDF version of the report which is sufficient to create Express Entry Profile.
Make sure your ECA report mentions your details like name and education correctly as in my case name was misspelt on one report page.
How to find the WES ECA Certificate number on the report?
After receiving your report from the designated origination:
You will find your WES ECA certificate number on the top right of the report, just next to the date, you will see 'Ref#:' which is your reference number as well as your WES ECA certificate number.
How to use the WES ECA report?
Make sure you carefully use the WES reference number from your ECA report by following these simple steps:
Enter the details of your results and the "Ref#: reference number" into your Express Entry profile under "Study and languages". (As shown in sample above)
Upload scanned copies of your ECA report if you got ITA to apply for permanent residence
How to enter more than 1 educational credential in your profile?
Explained in 5 easy steps :
#1. Go to the 'Study and languages' form in your Express Entry Profile.
#2. Start filling in your details in all the fields in the Education History section.
#3. Select "Yes" under the ECA section and the further portal will ask you to fill in the details of the issued organization, Date of issue, and ECA certificate Number.
In your ECA report, origination has mentioned that your foreign education is equivalent to a Canadian Bachelor's or Master's or Doctoral, etc. Just select that equivalency in the last question and you are done with one more education detail.
#4. Click "Save and add". The fields you just filled out will go blank and allow you to enter other education details as you can't submit more than 1 educational credential in the same field.
#5. Your credential will appear in the Education history table below the Save and Add button.

Repeat steps 1 to 3 for all your remaining educational credentials.
How long is an ECA valid?
Your report will be valid for 5 years from the date of issue or must not be more than 5 years old on the date you submit your Express Entry profile or apply for permanent residence.
Final words: WES ECA
I hope I have covered almost all the detailed steps and all your queries regarding getting an Educational Credential Assessment (ECA from WES) for Express Entry Canada and how to get a WES ECA.
If you find it helpful please leave your valuable comments. All the best for your PR journey ahead. All suggestions are welcome.