Saskatchewan is 'The Prairie' province located in the heart of Canada, bordering Alberta and Manitoba. Saskatchewan is one of the coldest provinces in Canada, where winters are really harsh. Saskatchewan also borders the two states of the United States to its south called Montana and North Dakota.
Saskatchewan has a large covered grassland on its southern side, and rocky rocks to the north of the Canadian Shield plateau, combinations of rivers, 100 thousand lakes, and forests.
QUICK SUMMARY
Saskatchewan's notably cold climate, especially during winter, is due to its geographical position in the center of Canada's prairie provinces. The intense cold, sometimes dropping (feels like) below -50°C, is colder than the South Pole, influenced by the southern lobe of the Polar Vortex bringing cold northern air. Additionally, the prolonged cold seasons, as reported by CBC, indicate Old Man Winter's firm grip on the province, with chilly and snowy conditions persisting even into spring.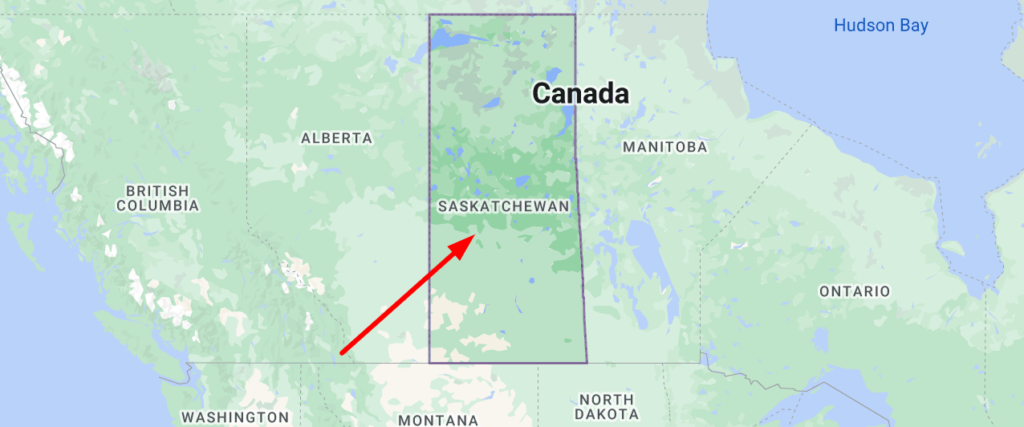 About Saskatchewan 'Prairie Province'
Saskatchewan is also called 'The Prairie Province'. Saskatchewan's major prairie part is covered by the Great Plains Grassland.
Huge blue skies covering all over Saskatchewan are the reason it's known as 'the land of living skies'.
Saskatchewan lies in the centre of Prairies, known as the 'Prairie Province'
Regina is the capital of Saskatchewan
The Paris of Prairies, Saskatoon is the largest city in Saskatchewan
Saskatchewan is the 7th largest province in terms of area in Canada.
It is 6th largest in terms of population in Canada
Saskatchewan exports 1/3 of the world's total potash
Saskatchewan is 5th world's largest uranium exporter
#Rank
Province
Total Land area
% of National Land Area
7
Saskatchewan
591,670 km²
228,449 mi²
6.5%
Total Area (km²)
7
Saskatchewan
651,036 km²
251,371 mi²
6.5%
Why is Saskatchewan so Cold? (-50° C)
The major parts of Canada go extremely cold during winters, especially prairie provinces, like Saskatchewan, and Manitoba. Saskatchewan is sitting in the centre of prairies, where in extreme winters (feels like) temperature reaches even below -50 °C, which is even colder than a south pole. The main reason why Saskatchewan is so cold in winter is, that the southern lobe of the Polar Vortex aloft grazing south.
What are the Coldest Temperature Records in Saskatchewan?
Saskatchewan cities are known for breaking their old coldest weather records year by year in the extreme winters.
In Saskatoon, we have experienced (feels like) temperatures below -45 °C to -50 °C during January.
In Saskatoon a new cold weather record was set, the temperature dropped to -39.2 °C in December 2021, breaking its 100-year-old record which was set in 1905.
Check this list of Saskatchewan communities where new cold weather records were set and recorded recently in the last winter on Dec 28, 2021 (Source Cbc.ca) :
Saskatchewan Community
Coldest Weather New Record (December 2021)
Old Record – Year
Assiniboia
–35.5 °C
–33.8 °C in 1996
Broadview
–39.0 °C
–35.8 °C in 1992
Coronach
–35.1 °C
–32.0 °C in 1992
Elbow
–37.0 °C
–36.0 °C in 1992
Indian Head
–39.0 °C
-38.3 °C in 1917
Kindersley
-39.2 °C
-37.8 °C in 1968
Last Mountain Lake
-40.7 °C
-37.0 °C in 1992
Leader
-42.6 °C
-37.2 °C in 1924
Lucky Lake
-38.7 °C
-36.3 °C in 1996
Maple Creek
-40.6 °C
-40.0 °C in 1917
Moose Jaw
-37.6 °C
-34.4 °C in 1924
Regina
-38.6 °C
-37.2 °C in 1884
Rockglen
-31.9 °C
-31.7 °C in 1996
Rosetown
-38.6 °C
-38.3 °C in 1917
Swift Current
-39.1 °C
-36.1 °C in 1917
Wynyard
-37.2 °C
-34.6 °C in 1988
Saskatoon
-39.2 °C
-37.2 °C in 1905
*Data source: Cbc.ca
Which is the coldest Saskatoon or Regina?
Saskatoon is slightly coldest than Regina, recently in December 2021 Saskatoon broke its 100-year-old record and set a new coldest record of -39.2 °C.
On the other hand, Regina set a new record of -38.6 °C recently in December 2021.
| | | |
| --- | --- | --- |
| City | New Record °C | Old Record °C |
| Regina | -38.6 °C in 2021 | -37.2 °C |
| Saskatoon | -39.2 °C in 2021 | -37.2 °C |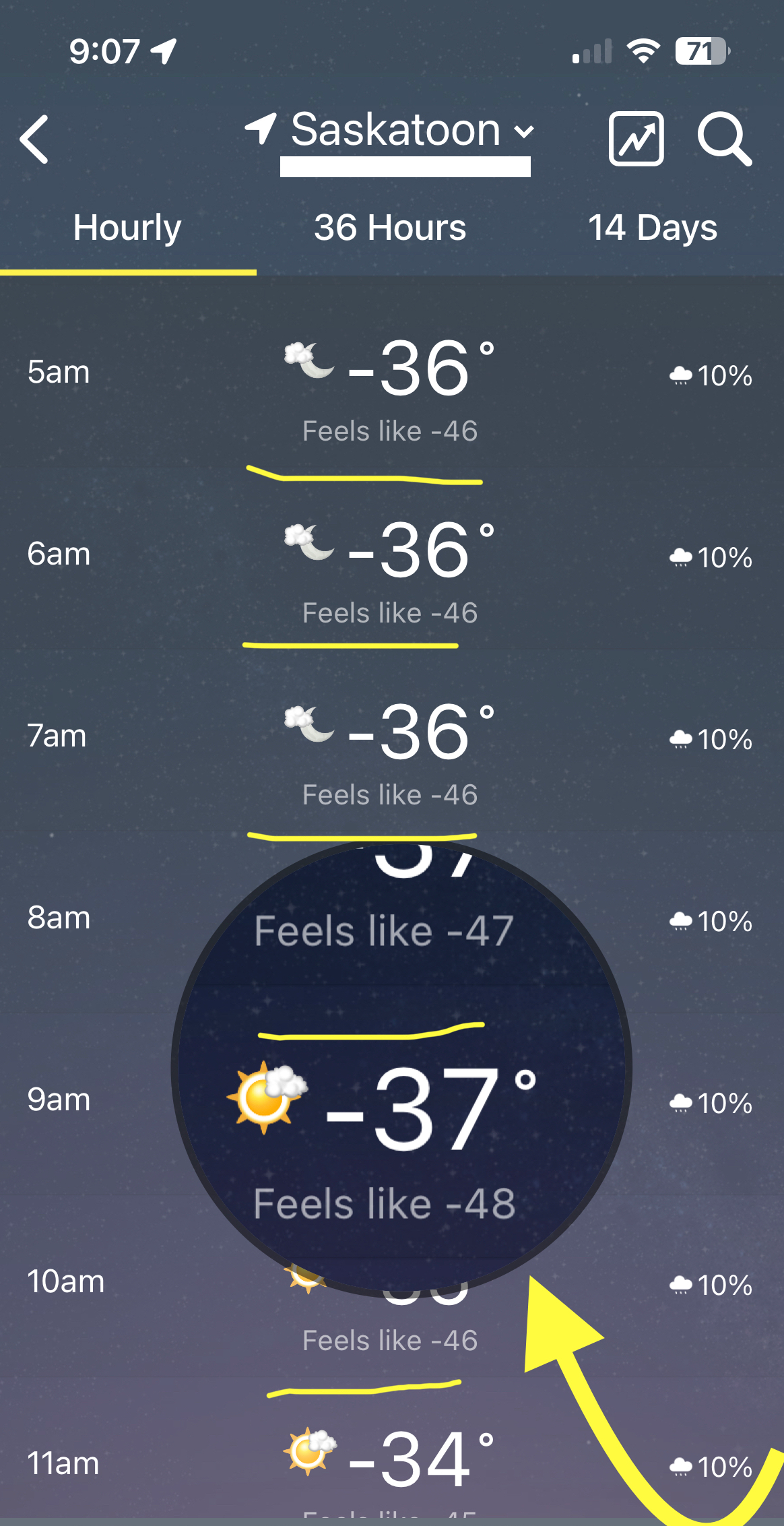 What is the coldest temperature ever recorded in Saskatchewan?
Recently in December 2021, the Leader area in Saskatchewan set the coldest temperature record, dropping to -42.6 °C. That broke Saskatchewan's oldest coldest and lowest temperature record of -37.2 °C which was set in 1924.
| | | |
| --- | --- | --- |
| Coldest Area | New Coldest Temp. Record °C | Old Coldest Record °C |
| Leader | -42.6 °C in 2021 | -37.2 °C in 1924 |
Must Read: 10 Best Cities to Live in Saskatchewan
Does winter affect life in Saskatchewan?
The simple answer is No, winter doesn't affect life in Saskatchewan.
Yes, the commute slows down due to snow or icy conditions on roads but life never slows down here. Everything works on time, and offices or schools open on time. All the things work pretty well, transits are on time literally everything.
You just have to take extra precautions while dressing up to go outside, especially if you are walking to get the local transit or walking down the street to do groceries.